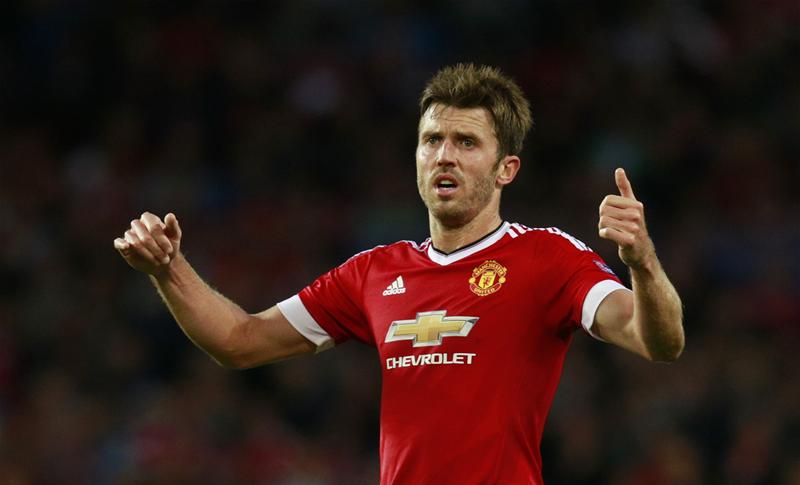 England international Michael Carrick is preparing the Red Devil fans for a big announcement with his recent social media activity. The England international has made a promise to the Manchester United fans to expect some 'big news' in the future. The 35 year old midfielder posted on his Instagram account about a major announcement to be made, he also posted a few pictures which shows him filming at Old Trafford.
The Englishman's contract will run out this summer, Carrick had agreed to sign a 12 month extension last summer.
But a few report's do state that the announcement is more likely to be confirmation of a testimonial match, Fans might want too see him donning the Red Devil's shirt for one more season but it unlikely that might happen considering his age and fitness level.
The former Spurs midfielder is currently in the middle of his 11th season at the Old Trafford after he signed for them from Tottenham Hotspur in July 2006 for a decent fee of £18 million.
Carrick has since then won every possible trophy at club level and has enjoyed a hugely successful decade with Manchester United , He won five Premier League titles under the Legendary Man Utd manager Alex Ferguson, Carrick also won a Champions League, FA Cup and  the League Cup.
Manchester United surely know how to honour and respect thier legends and they might do so for Michael Carrick to by granting him a Testimonial match for his service to the club.
In the start of the video of Micheal Carrick's Instagram story, the veteran midfielder wrote that: 'Filming today for a big announcement coming soon!!'
He has also showed his love and support for the club he has been representing for that past decade with such pride, He wrote: "Such a privilege to play for Manchester United! Love everything about this club. Honoured to have played with some special players!"
The 35 year old midfield mastero has got a decent amount of playing time under newly appointed Man Utd manager Jose Mourinho, he has since featured 18 time making a way back into the side in last October, although he did not play against defending champions Leicester City nor did he get a start against Watford, Although he did play agains Hull City but he was subbed in the half time.
Former Chesea manager Jose Mourinho has also  spoken highly of Micheal Carrick's talents, but he has also stated a dissapointment at the fact that he has only had the chance to manage him in the end of his professional playing career.
Earlier this month the Portuguese said:"Let's be honest. I have seen many positives in Carrick. But I cannot go to his identity card and delete five years.
"Michael is not 30."
Michael Carrick has made 450 appearances for Manchester United in all the competitions and has also admitted he is going to take his coaching badges.