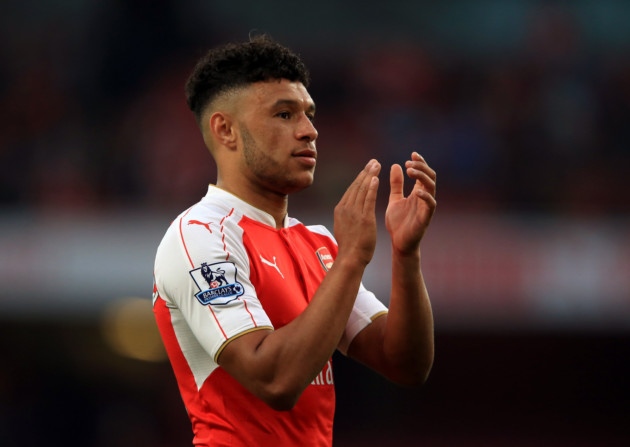 Story So Far-
There has been a lot of speculation over the future of two very important players at Arsenal football club; Mesut Ozil and Alexis Sanchez. Despite that, a rather under-rated player is now ready to move away from Arsenal after reportedly rejecting a new deal offered to him. Alex Oxlade Chamberlain could be on his way out of the club as Liverpool and Chelsea seem interested in securing the Englishman's services.
Chamberlain has been reported unhappy with the initial deal that was offered to him by Arsenal's board and refused to sign the contract. There was a wage dispute with the winger wanting an excess of a £100,000 a week, which his contract didn't fulfill.
Arsene Wenger has constantly stated that he doesn't want his prized Englishman to leave the club and the board then upped the offer to almost double of what was first put on the table. But the Ox is set to refuse the new deal as well claiming he wants out of the Emirates with just under a year remaining on his contract.
Premier League rivals Liverpool and Chelsea are looking to take advantage of this situation as they could recruit Chamberlain given Arsenal would not want to sell him for free next summer. The 24 year old has made just 16 starts in the Premier League last season, with most of his appearances coming off the bench.
Therefore it is unconvincing as to why Wenger wants to keep the attacker in his side when he is valued to be around £35m. Chamberlain is a high energetic and versatile player who has played in almost all the positions for Arsenal except center-defense and as a keeper. He is a skillful winger as a natural and can be deployed on either of the flanks including a central midfield or striker's position.
With barely a few days now remaining in the transfer window, how much of an impact will Chamberlain's decision to leave Arsenal have on the club? Also, will Wenger want to sell a player to a direct rival? We will have to wait till deadline day for the outcome.
The Loss That Can Break Arsenal!!
With three top stars being linked with a move away from the Emirates, the problems for the French manager have just started to pile up. Ozil, Sanchez and Chamberlain are all being lined with top clubs and could be possibly all set to leave north London, in the upcoming days.
If that happens, it could be crisis time for the club and they will have to buy more stars, before the transfer window closes, in order to fill the void left by their departing stars.
Hopefully, Wenger can keep his stars at the club and really work on the team's current form, if he wishes to challenge for some major titles this term.
Already, his team have lost on the right to play in the Champions League and will now be in the Europa League instead, which is not good for them. Well, knowing the French manager and his love for the club, they might recover soon. Or maybe not.
Like our page for stories from the footballing world.