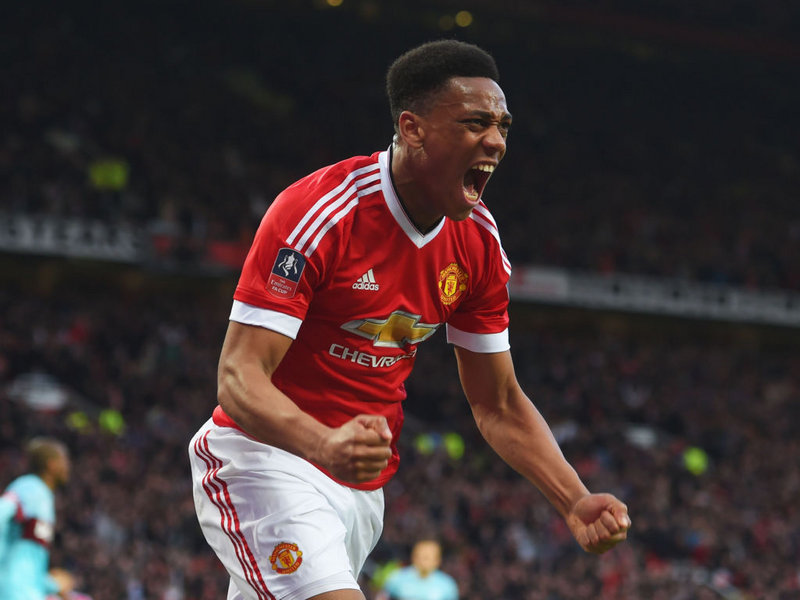 Story So Far-
In recent reports, Manchester United forward Anthony Martial has claimed to reject a transfer bid from Serie A side Inter Milan. The Italian outfit was looking to bring in the Frenchman to fill the void at right-back, but after failing to land Dortmund's Emre Mor and teenager from Cane FC Yann Karamoh, it seems as if Inter will not be signing Martial as well.
The French international joined Manchester United in 2015 after being dubbed as the next "Thierry Henry". He arrived at Old Trafford and scored a debut goal against arch-rivals Liverpool after coming off the bench in the second half. He became an immediate fan favorite with the United faithful as he flourished in attack.
However, Martial had an underwhelming last season under current Manchester United boss Jose Mourinho as he struggled to make an impression on the Portuguese. And it was difficult for the player to break into the first-team, with Zlatan Ibrahimovic, Marcus Rashford, Juan Mata, Jesse Lingard and Marouane Fellaini in the squad. This left the 21 year old frustrated and many people assumed he would leave the club for a regular starting berth elsewhere.
Many top clubs across Europe were interested in taking advantage of this situation. However, after showing the form he showed when he arrived, during United's pre-season tour of 2017, Martial looks to have the killer instinct back under his armory.
With pace and skill, Martial is a threat to almost any defender in the world. He can cut inside or outside with ease, causing havoc for the opposition. The winger is capable of playing on either side of the pitch or through the middle as a center-forward; at times Martial is also used as a wing-back, which prompted Inter to bring him to the San Siro.
Having arrived at Manchester priced as the most expensive teenager in the history of football at £36m, it was painful to see such a talent on the bench. But, Martial has refused to accept a bid from Inter, probably because he is willing to fight for his place at United and has claimed he will not be going anywhere.
Most recently a journalist tweeted, "Martial has for now discarded the Inter option. Prefer to stay in Premier if necessary." This is definitely good news for the Red Devils.
What A Win!!
The 4-0 win on the opening day of the new campaign for the Manchester based side will have given them the confidence to perform at their very best in the days to come. It will now be interesting to see what they do in the upcoming matches, under the guidance of Mourinho.
Lukaku, Pogba and his compatriot looked superb and if a player like Martial can link up with them really well, it could possibly mean that United will win more titles this season too.
The Portuguese manager will be hoping for more of the same and you can like and follow our page for more stories, in the days to come. Things are about to get interesting.
https://www.youtube.com/watch?v=JdSlLtf2bNk