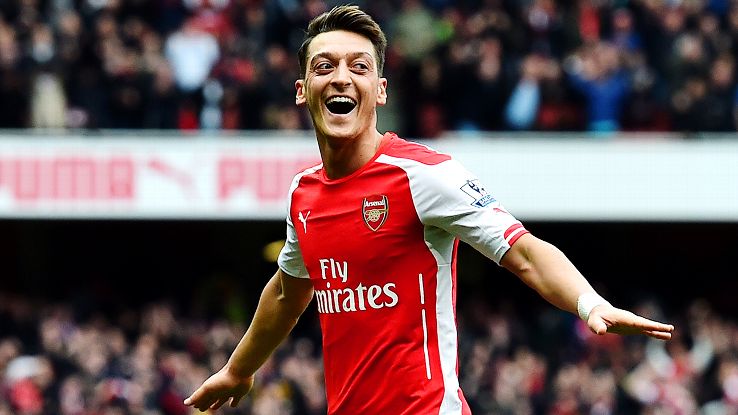 The Initial Claim-
Arsenal are ready to allow German superstar Mesut Ozil to leave the club in the next transfer window, much to the surprise of many football fans. The midfielder's contract expires in June next year and with just a few months left, Arsenal are willing to recoup some of the £42.5m that they spent on him 4 seasons ago in 2013.
Having arrived from Real Madrid, Ozil came into the London club with a massive reputation but has had a rather mixed emotion of time with Arsenal. Many of the club fans adore the classy play-maker whilst others dub him as 'lazy' and 'sloppy', but there is no denying the fact that the 28-year-old is still a world-class talent.
The ability to pick out a pass and dictate the game while on the ball is still one of the many high-quality traits the German international possesses. Ozil has also been topping the charts for the most assists for the club in the past two seasons, creating more chances than any other player in Europe.
With his current deal set to expire, Ozil hasn't shown any signs of signing a contract extension with Arsenal, which has led to a lot of speculation regarding his future. And if Arsenal do keep him till the end of the season, he will be allowed to leave the club for free, which would also not be a profitable decision in any sense for Arsenal.
And there are plenty of clubs who would willingly accept Ozil to join their respective club, the latest being Premier League rivals Manchester United. The Red Devils manager Jose Mourinho has also stated that he is confident of securing a deal with Ozil in the coming transfer window.
In 2015, Mourinho was quoted saying Ozil is unique, There is no copy of him, not even a bad copy. He is the best No.10 in the world." The pair worked together during their time at Real Madrid and in 2012 Ozil had also mentioned how his relationship is with the Portuguese manager.
"Mourinho is [like] a father to me, He is a great teacher, a strong character and a caring coach to all of his players." The German midfielder said.
Mourinho is keen to build on his already strong squad at Old Trafford and Ozil's addition to Manchester United could also land them the Premier League title by the end of the season. Speaking earlier in an interview Mourinho said, "He (Ozil) is definitely one of those players we are looking at but the last January signings of (Lukas) Podolski and (Xherdan) Shaqiri proves winter signings can fail to live up to expectations.
"We have many new players already, we have tried to build the best possible team with the resources we had."
The dilemma now lies with Arsenal manager Arsene Wenger, who is currently on a steady run of form with the Gunners, but only time will tell if the French manager will keep hold of Ozil in the winter transfer window.
Editor's View – Why Arsenal Should Sell!!
Though I have always been an admirer of Ozil, it is high time for the Gunners to let him go and January would be the right time to cash in on his services, otherwise, he will leave for free eventually. Wenger needs to understand that if the player is not willing to sign a new deal, he should just let go and get in a star like Lemar, who will at least give three to four years to the club, rather than someone who disappears during most big games with poor form or injuries and comes back and scores against the smaller sides.