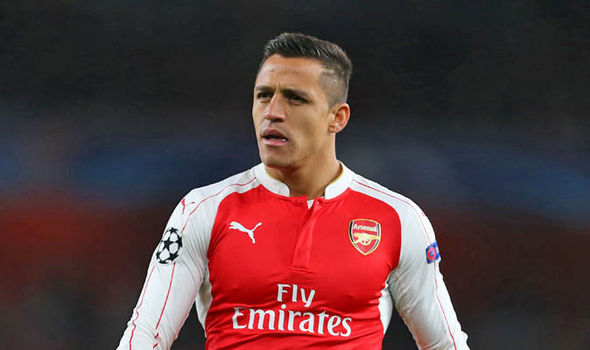 Reports in England claim that Arsenal player. Alexis Sanchez has agreed a four and a half year contract with Manchester Unitted. The deal is estimated to be nearly £15m per year,devoid of taxes.This lucrative deal means the Old Trafford outfit will spend nearly £67.5m on the former Barcelona attacker. This includes €35m fee, agent's fee and a significant signing on bonus.
Manchester City withdrew their interest, making Pep Guardiola miss out on a chance to work with his former star.The club feel the amount is too much for
a player who would be available for free next summer. Even Chelsea showed interest initially but later smirked at the player's demands and stepped
back.
From the moment this rumour popped up to the moment this deal falls through, the big question on everyone's mind will be – "Will Alexis Sanchez make
United win the title?"
Sanchez will fit straight into the first team and play in the left flank. Mourinho flipped Rashford and Martial in this flank throughout the season. He is definitely not the Mourinho's kind of player.He lacks the defensive intent you expect in a Mourinho player but has the commitment and work-rate.
needed to get the job done.His outstanding pace and ability to win one on one with defenders is what Mourinho should cash out on.
This stat chart of Alexis Sanchez compared with Manchester United players in English Premier League 2017/18:
The amount of chances created is what catches our attention. Alexis can be used as a proper no 10 , who will feed Lukaku or Zlatan with more chances. Another alternative would be to use the Chilean upfront in place of Lukaku who hasn't been clinical infront of goal as expected. Alexis, with 24 goals for Arsenal last season , can play upfront and cause havoc.
Mourinho will be getting his hands on a player who has a never-say-die attitude.How he uses the man is up to him.Alexis can be your "hit-man" or can be a talisman weaving chances.Either way it's a deadly deal.
Alexis Sanchez can give Mourinho the chance to grab way the title from his former employers. Only if he is used in the right way. Let's strap our seat-belts and wait for it…
Worth The Money Now?
The Red Devils should actually be patient with this deal and wait till the end of the current campaign and try to sign him for free, than spending and going big and getting nothing much out of the deal. It is already tough for them to win the top flight of English football, unless Manchester City really drop some points and fast.
Due to this, Sanchez's main contribution might only come in the Champions League and the FA Cup, that too, if things work out for United. Also, at present, Mourinho does have a lot of good options up front, which he may not be able to offload at present, which would mean that the Manchester based side might waste a lot of money in the process.
If Sanchez is serious about playing at The Theatre of Dreams, he will surely move to Old Trafford in the upcoming transfer window, though at point there might be a lot more competition to bring him in, as he will be a free agent.