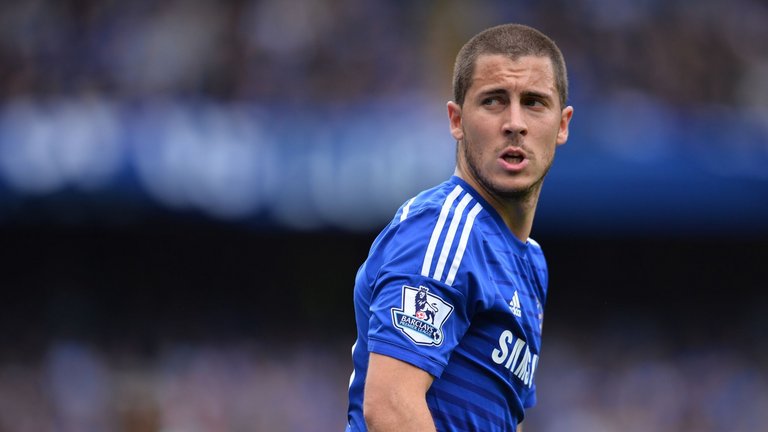 The Belgian left wing forward Eden Hazard's days at Chelsea might be going to be numbered as the player want to play for a bigger club to win more trophies. Eden Hazard has told earlier many times that he want to win the Ballon D'Or trophy like Lionel Messi and Cristiano Ronaldo; but to reach that milestone, he needs to win more trophies. He needs to perform well in the big occasions to be in the hunt. So, in the next transfer window, he might go to Real Madrid with a dream of winning UEFA Champions League for them. Eden Hazard has won Europa League, 2 Premier Leagues and FA Cup with Chelsea.
Now, Chelsea board have to find a proper replacement of the Belgian winger to fill up his place in the squad. The replacement of Eden Hazard will not be very easy to find. The Belgian's dribbling is considered to be one of the best in the World right now. His role in building up any attack is unmatchable. The versatility he produces in the attacking third for the Blues will certainly be missed. The three replacements of Eden Hazard could be :
1. Marco Asensio :
Real Madrid's youngster footballer Marco Asensio could be a good fit for Chelsea in place of Eden Hazard. Marco Asensio is a good player at the upfront for any European club in the present era. Marco Asensio is the attacking midfielder whom any team will wish to have. The Real Madrid boy is not featuring in starting eleven of Real Madrid in all the matches of the team. He is not getting enough chances to show his talent in the star studded Real Madrid side. Real Madrid could use Marco Asensio as a part of Eden Hazard deal with Chelsea FC.
Marco Asensio will wish to be in the starting line up for any big club of Europe right now. The Spaniard seems not to be really happy with his position at Real Madrid. A move to Chelsea could be a real good thing for Asensio to happen in the next summer.
2. Riyad Mahrez :
Mahrez is reportedly seeming to be not happy with playing at Leicester City. It was more or less obvious that Mahrez would leave for Manchester City in this winter transfer window; but somehow Leicester were able to retain their player. Mahrez helped Leicester City to win the Premier League in 2015-16 season. It was a fairytale coming true for them. Mahrez is left footed player; he loves to shoot from distance. On the other hand, Mahrez is a good set piece taker. He can prove to be valuable for any team any day. Chelsea need someone like Mahrez to help them regaining their previous position back. With having an experience of playing in the Premier League, Mahrez is surely going to be a good replacement of Eden Hazard.
3. Sergej Milinkovic-Savic :
Milinkovic-Savic is one of star players of this season for Lazio in Serie A. He is performing well in a consistent basis. The strong physical presence of the player upfront will give Chelsea a new shape that is needed. So, the player could surely be a summer target for the Chelsea board to land at Stamford Bridge.