Spanish forward Alvaro Morata claims that he considered leaving Chelsea this summer, after having a disaster of a debut season in the Premier League. He was all over the news with speculations about his future at the club and the tabloids were linking him with every club possible across the European continent (at one point of time), though they yielded no fruit and eventually died down.
The former Real Madrid star joined Chelsea back in 2017 and started in blazing form as he scored six goals in his opening six league appearances. But the goals dried up as he managed to add three goals more to his tally for the entire league season.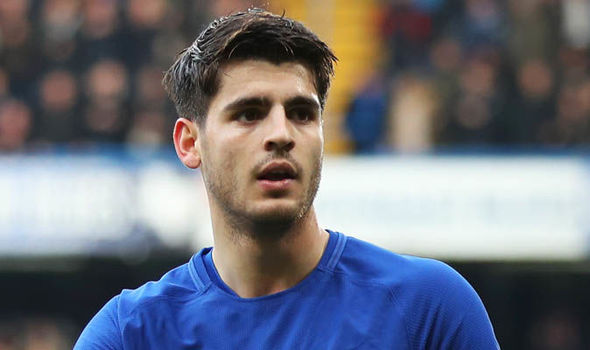 The Spanish star was extremely low on confidence as his loss of form saw him missing out on Spain's World Cup squad. The dry phase made him consider a move out of Stamford Bridge this summer.
Speaking to Sky Sports, he told the Spanish media, "I thought about playing again in Spain or Italy. Of course, I thought it would have been happy, but you cannot always escape from reality,"
"It was a disaster last year, I did not know where I was, I was not happy. I signed for Chelsea to be there (World Cup in Russia) and I was not, although that ultimately made me motivated," he added.
When asked about his selection in the Spanish squad for World Cup, he was ready to accept his fate as he said, "I do not hold a grudge against (former Spain coach Julen) Lopetegui, I've lived a lot of nice things with him too, it was his opinion and I did not do my best season either. But I do not hold a grudge against anyone, I wish him all the best and more now that he is at Real Madrid."
The Blues forward had offers from Serie A club, AC Milan. It is a league where he flourished at Juventus and the Spaniard definitely did give it a thought of returning to Italy in the summer.
Morata has been recalled by Spain's new boss Luis Enrique for the upcoming fixtures against England and Croatia in the UEFA Nations League. The 26-year old claimed that he took his international career for granted and was left heartbroken when he found himself not travelling with the side to the Russia World Cup. However, it did cost his team as much as it hurt his ambitions to lift the World Cup, as Spain were eliminated rather easily from the tournament.
Things got really bad for Alvaro Morata last season. pic.twitter.com/DD0BWoO8kJ

— ESPN FC (@ESPNFC) September 4, 2018
He opened up about his disappointment as he said: "I experienced it, it was a very hard moment that has already happened and it is not worth looking at the past. I am going to do everything I can to go to the next one, it was a difficult moment because I thought I was going to go."
Click here to read the full interview.
Morata who has remained at Stamford Bridge will be playing under the tutelage of new gaffer Maurizio Sarri. The Spanish forward looks to proceed forward this season leaving behind the darker days at the club. There is no doubt on the capabilities of the 25-year old striker but he has to regain that trust of the fans at Stamford Bridge and even those of his national team.
He was being linked with a host of clubs for quite some time in the summer, before he played down those claims and decided to stick with the west London side. Whether that move does actually pay off for him now or not, remains to be seen, though he hasn't made the best of starts to the new campaign.
The main problem for the Blues is that, they have World Cup winner Olivier Giroud to back him up, though the striker did not score a single goal at the tournament in Russia, earlier this year. There is no guarantee when the former Arsenal man will return to his best and till then the Spaniard is the best choice that they have up front.
Hopefully, he can get back to being his best in the days to come and Chelsea can really push their game to another level under new boss Sarri.