Alvaro Morata has made it clear that no one can stop Eden Hazard from joining Real Madrid if Hazard wishes so. Few days back, Eden Hazard has told that he has a dream to make a move towards Real Madrid in future. The contract of Eden Hazard is going to expire after the end of this season. The speculations are always on about his future at Stamford Bridge. Eden Hazard is seeming to be affected with these much speculations over his future.
The Belgian winger has told that Chelsea FC club management have not given him any offer about the extension of his contract yet. Eden Hazard wants to win the Ballon D'Or and somehow now he is feeling that he has to move to Real Madrid to win this award in near future. Eden Hazard is now 28 years old and he will turn 29 in the next January. This is certainly the pick time of the career of a player. So you can not really blame Eden Hazard if he wishes to move to Real Madrid in the next summer transfer window.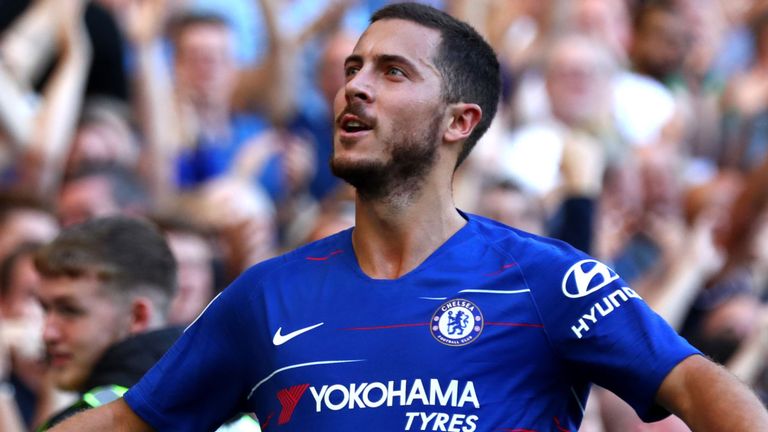 There were some speculations that the Blues might offload Eden Hazard if they fail to convince Eden Hazard to sign a new contract within few days. As the contract of Eden Hazard is expiring at the end of this season. If the Belgian winger does not sign a new contract, the club management of the Blues might have to offload Eden Hazard without any transfer fee. But, Hazard has assured the Chelsea fans that he will continue to play for Chelsea in this season. So, no move in January is seeming to be possible for Eden Hazard. On the other hand, in some other interview, the Belgian has clarified that he wants to win something with the management of Maurizio Sarri in this season.
Eden Hazard is in superb form in this season for Chelsea FC. He is now the top scorer of English Premier League with 7 goals in 8 matches so far. Moreover, he had scored the winner against Liverpool in the Carabao Cup match at Anfield which is certainly the best goal of him in this season. At this point of time, the Chelsea fans are dreaming to win the Premier League with this form of Eden Hazard.
Alvaro Morata's quotes will certainly not be very much pleasing for the Blues. The Spanish centre forward was slowly gaining the faith of the Chelsea supporters after his back to back two goals against Southampton and Mol Vidi FC. But, there can be another implications of the comments of Alvaro Morata. The Spanish centre forward has only wished to confirm that Chelsea FC will not retain any player in their side if they are not wishing to stay at the club. Eden Hazard has also made it clear that he will not mess up the situation like his Belgian teammate Thibaut Courtois who has avoided to come to the training Ground of Chelsea FC after the end of the World Cup in Russia few days ago.