German giants Bayern Munich are currently leading the race to sign Chelsea's prodigious youngster Callum Hudson-Odoi in January. As per reports, the German giants have made the move for the Chelsea winger considering him as a long-term replacement for the likes of Arjen Robben and Franck Ribery who will turn 35 and 36 respectively by the end of the season. Odoi, 18 has a lot to improve to play regularly in Bavaria but with the experience in the twilight of their career chances will be more in Germany than staying in London.
Hudson-Odoi made his Chelsea debut last season and despite impressing the spectators and pundits he was only given limited opportunities to showcase his talent, ending the campaign with only 4 appearances for the Blues. Although he did not lose hope and came up with an impressive pre-season for the Londoners which also included a stunning performance against Inter Milan in the International Champions Cup. He can be a nightmare for any defence especially because of his lightning pace and marauding runs down the wing. He can be a nightmare for any full-back in a 1v1 situation but his off the ball movements and distribution needs a lot of polishing.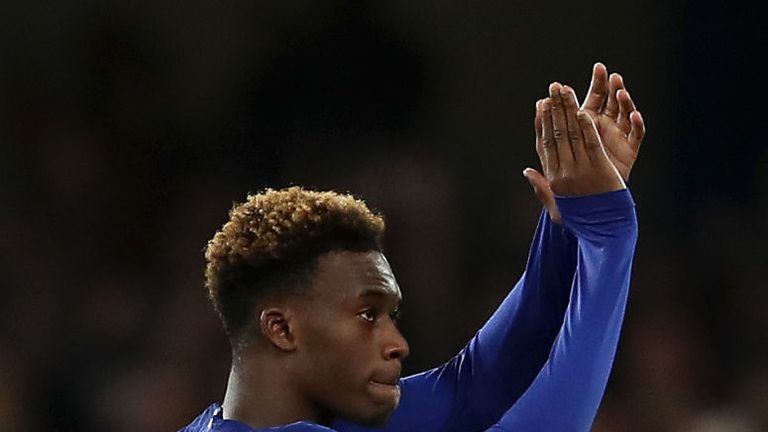 With the glimpses of what he holds for the future, he would have thought that he will garner more experience this season under the tutelage of Maurizio Sarri but things have not shaped up that way. The young winger did feature some sizeable minutes in their defeat against Manchester City in the Community Shield. But since then things have not been great for the 18-year-old, as he has made only 2 senior team appearances and also played around 35 minutes in UEFA Europa League.
"He has to improve, & improve a lot. First of all in the defensive phase. He also has to improve in the offensive phase. He is very good one vs one but he has to learn to move without the ball… but this is normal. He is 18" Sarri said after the match against PAOK. The Italian feels that though the Hudson-Odoi has a lot of talent, he still needs to develop a lot of areas and is far from a finished product.
Hudson-Odoi is only 18 years old right now and if he keeps on sitting on the bench getting some minutes here and there he may not be able to improve on the important aspects of his game. Something moving to Germany will help and has helped players like Jadon Sancho, Ademola Lookman, Reiss Nelson and Reece Oxford. These players are from England but that has stopped them to traveled to far off lands only because they wanted more game time to improve and polish their attributes. Considering Bayern's current situation they do need an injection of youthful exuberance in their squad and chances will come more often there for the 18-year old.
Jadon Sancho who was Hudson-Odoi's teammate in the England U17 side which won the World Cup in India last year have paved the way for English youngsters to head to other European countries, especially German in search of more game time. He left Manchester City last year and since then he has become a regular for Dortmund this season. Lookman and Oxford also spent time on loan with RB Leipzig and Borussia Monchengladbach respectively. Reiss Nelson who is currently at Hoffenheim has lit up the Bundesliga by scoring six goals in 8 Bundesliga appearances also adding to that he has also featured in four UEFA Champions League matches for the German side.
Rather than stalling his development by playing some minutes in Chelsea, it will be better for Hudson-Odoi to feature more regularly something which is possible at Bayern considering their options on the flanks, also adding tot he nature of the league it often suits youngsters who come with a positive style of play. So this move can be beneficial for both the parties and can end up to be a very smart transfer.