Only a few are left and they are also about to leave. It has been a memorable season for the Red Devils. They went down with Mourinho in charge and rise from the ashes again with Ole Gunnar. United were pushed into the tails in the initial days and then Ole Gunnar pulled the side into the top four zones. However, United are again out of the top four zones now. Gunnar and team are now at sixth position with 61 points in 32 matches. It has been reported that Manchester United may go for new faces this time to immunise themselves against all the odds. However, news are there that Manchester United may lose some of their old faces also.
Manchester United may have a couple of key players who may go out of contract this summer. Amongst those is the United midfielder, Ander Herrera. In the middle of all the events, the future of the 29-year-old's doesn't look good. According to the rumours,  it is being claimed that Herrera is set to leave United on a free. It has been stated that Herrera has agreed on a pre-contract with the French champions Paris Saint-Germain after being left unimpressed as United's long-term contract offer.
This just sums up the current situation of United at this moment. The club is seemingly willing to give new deals to promising players like Chris Smalling and Phil Jones, while they are not prepared to offer suitable wages to the players who really deserve a handsome amount. After all must remember that at the end of the day, Herrera has ambition. He is among the ones who want to win major honours and at this juncture. Where United can't guarantee a major trophy this time, a move to PSG may lift his career a bit higher. However United haven't guaranteed anything about the rumour.
It'd be a real shame for the United to see Herrera leave because he really makes the midfield tick. It may give Ole Gunnar Solskjaer one more problem to worry about going into the summer, which it would be unfortunately the last thing United need.
On the other hand, Manchester United fans seem to be largely in agreement that Lyon star Ndombele should be the man to be bought. Ndombele may replace Ander Herrera at the Old Trafford.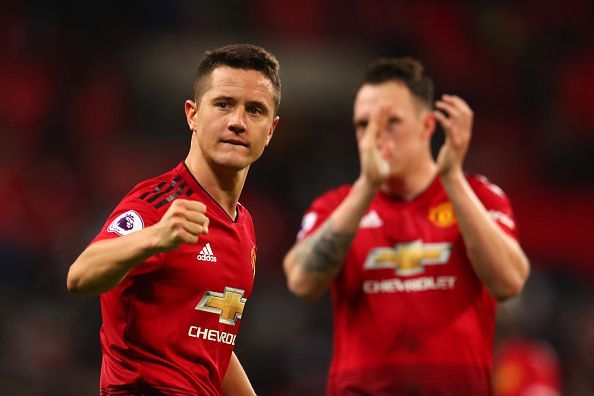 As the Spaniard has snubbed a contract offer from United to go to PSG next season, the current deal of Herrera at Old Trafford is going to expire at the end of this season.
Herrera has been a great servant to the Red Devils and could end up being a big miss for the Premier League club. Herrera is 29 and it is perhaps understandable that the club don't necessarily want to be bullied into paying over the odds for his wages. Many may also argue that, despite his work rate and commitment, there are better all-round midfield players out there, and Ndombele is undoubtedly among them who fits into the slot.
The France international has been immense for Lyon this season, and at the age of 22, he has his best years still ahead of him.