It has been confirmed now that west London outfit Chelsea are looking to let go of Maurizio Sarri, as they are no longer interested in keeping hold of him. The Italian manager had recently agreed a deal with Serie A champs Juventus, with speculations of a potential exit on the cards for quite some time now.
With that being said, there were talks that the Europa League final could decide what the future held for him. However, despite the win and securing a spot in the Champions League for next season, it seems that the former Napoli man is keen to go back home and join the champions of Italy now.
There have been many reasons and stories going around as to why Sarri should stay on or why not, but the fans are also having a mixed set of reactions for the Italian boss. Though he did help them the Europa League title, a major section of the fans have been demanding change and are still not sure whether Sarri's reign was a success or a failure.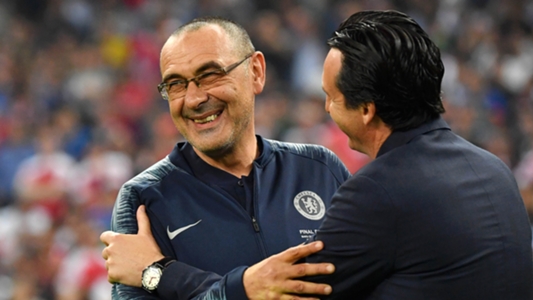 Though there have surely been some positives during his time at the Bridge, there is more to it that meets the eye. With the potential departure of Hazard being another factor as well, things are getting really interesting.
The fans are now curious as to who will be the next main-man of Chelsea FC and can really guide them to Champions League and Premier League glory. The fans will also have one eye on the domestic cups and will want to dethrone Manchester City in the seasons to come.
Liverpool's Champions League triumph and Tottenham's growth as a European giant, will surely be an eye-opener and the clubs from England, and in particular London will be keen to replicate this success story. With that being said, Sarri's departure could help achieve this goal, as his style of play at the west London outfit was not always appreciated.
Sarri-ball is a great play of playing football when the team can really get into that mode and make things happen. However, when things do not go according to plan, it rather looks sloppy and exhausting and the end result is really poor. That was the case in the previous campaign and it seems that Sarri has now made his decision and a departure is inevitable.
Another factor could be the transfer ban that the Londoners will have to suffer and their increased reliance on the youngsters to get the job done. Though this could be a positive sign for the long-run, it might not the best thing that the club needs at present and could hurt them, in their current chase for a higher status in European football.
Well, with the club management taking a firm decision already, there is nothing much that can be done. All we can do is sit back and enjoy the show, as a new manager steps in, with a lot of top candidates being linked with the job. Only time will tell how things plan out. You can follow Beyond The Posts for all the latest updates, as we keep track of this key story.