Match Report:
The first semi-final of the Cricket World cup 2019 was played at Old Trafford in England, between table topper India and the team 4th in standings, New Zealand. Kane Williamson won the toss and opted to bat first, considering the fact that last 5 matches here were won by team batting first. With few cracks in the pitch, Williamson hoped to tackle the Indian speed duo of Kumar and Bumrah, to put on a high score and put pressure on strong batting Indian lineup.
Not all went as per plan for NZ when Kumar and Bumrah both started innings with maiden overs. Kumar went for kill with the 1st ball, when an in-swinger stuck pads of Martin Guptill. Indians were so confident that they took review on 1st ball of the match for the appeal of LBW. Guptill survived the scare for the ball was missing leg stump. The 1st runs came of the bat on the 17th ball of match, when Kumar angled one towards mid-wicket.
Pressure mounted on the Kiwis batsmen and they succumbed to bowling of Bumrah, when Guptill edged ball to Kohli in 2nd slip. Williamson, along with Henry Nicholls tried building innings steadily eating up balls for next 15 overs hitting some solid boundaries of Pandya, Jadeja and Chahal. Jadeja got Nicholls bowled in the 19th over at 28 runs off 51 balls.
NZ tried building partnerships but failed to add runs in quicker time. The 3rd wicket of Kane Williamson fell off of Chahal's bowling, when he tried slashing outside ball for runs but timed ball to Jadeja. The NZ captain scored a fighting 67 runs for his team. NZ tried picking up the pace steadily but lost wickets at regular interval when rain halted the game in 46.1 overs having 211/5 with all Indian bowlers picking a wicket each.
Authorities tried their best to resume the game yesterday even thinking about letting India play 20 overs at least but to no avail. Play resumed next day on 10th July with Ross Taylor trying to score as many quick runs as he can but got run out to Jadeja while trying to run past crease for 2nd run in 48th over. New Zealand finished their quota of 50 overs at a respectable 239/8. For India, apart from Chahal, rest all tightened the screws on NZ batsmen and Bhuvneshwar Kumar ended up picking 3/43 in his 10 overs. India needed 240 runs to win the match.
The Indian team were expected to chase this score down and win, though they had had a bad start, losing Rohit Sharma in the 2nd over. Henry drawing first blood for the Kiwis. It was time for last match's centurion KL Rahul and captain Kohli to give a solid start, but Boult and Henry stuck again in their next overs. Boult's in-swinger to Kohli pitched around leg stump to swing back into middle stump.
Kohli was judged out LBW, but he took a review, only to be adjudged out again, as per the umpire's call. Henry got KL out quite immediately too. Top three batsmen were already in the pavilion, cooling their heels at a personal score of 1 run each. More than the pitch it was the bowling by Kiwis which made the Indian top order to play irrational shots without the proper foot-work. Rishab Pant and Dinesh Karthik were handed responsibility of steadying the innings but Karthik played way too many balls, before trying to drive a boundary. He failed miserably in doing so, as Neesham took a spectacular catch, giving Henry his 3rd wicket.
Pandya played against his natural game, scoring 32 runs of 62 balls hitting just 2 fours.  Dhoni and Jadeja steadied the innings, while Dhoni played the sheet-anchor's role. Jadeja played the flamboyant innings, taking the match till the end for a nail biting finish. When things look settled in last 3 overs, Jadeja got out hitting Boult to find Williamson for 77 runs (59 balls with 4 fours, 4 sixes). Jadeja played a dream innings giving Team India and silencing his critics.
Dhoni was still in the thick of things when India needed 31 runs in the last 12 balls. Dhoni hit a huge 6 off the 1st ball leaping in the air. When all eyes were on their TV sets, Dhoni, the fastest runner on the pitch got out trying to squeeze in a double, with Guptil hitting the stumps. Dhoni left the ground in silence, taking along with him the dream of winning World Cup for India yet again. New Zealand won the Semifinal by 18 runs to face either England or Australia on Sunday 14th July 2019.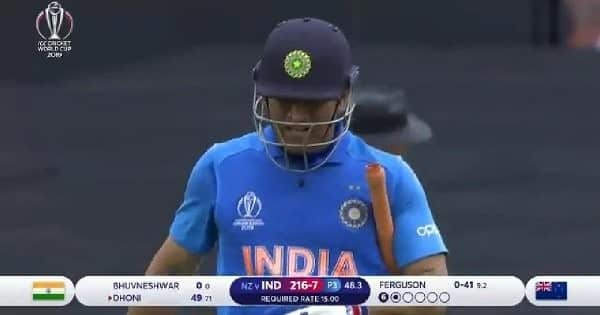 MS Dhoni's Error:
Though a lot of Indian fans would point out that Dhoni played too slowly at the end, some of the other fans kept wondering why he waited so long to come into the game. While some suggested that it was the rain-factor, others felt that he was not just in the form to perform under pressure.
Whatever be the reason, the main error that MSD made in the match was that he should have been there with a young and volatile Rishabh Pant. Though Hardik did get out eventually while playing alongside him, there was still hope that Pant would do better. The key reasons for that were the fact that he was looking much more solid and is one of the technically gifted stars.
Umpiring Error?
A recent image and video that emerged online shows that prior to the ball on which Dhoni was run-out, there were six fielders outside the ring. This is a huge error on the part of the referees, as only 5 fielders are allowed outside the ring in the third power-play.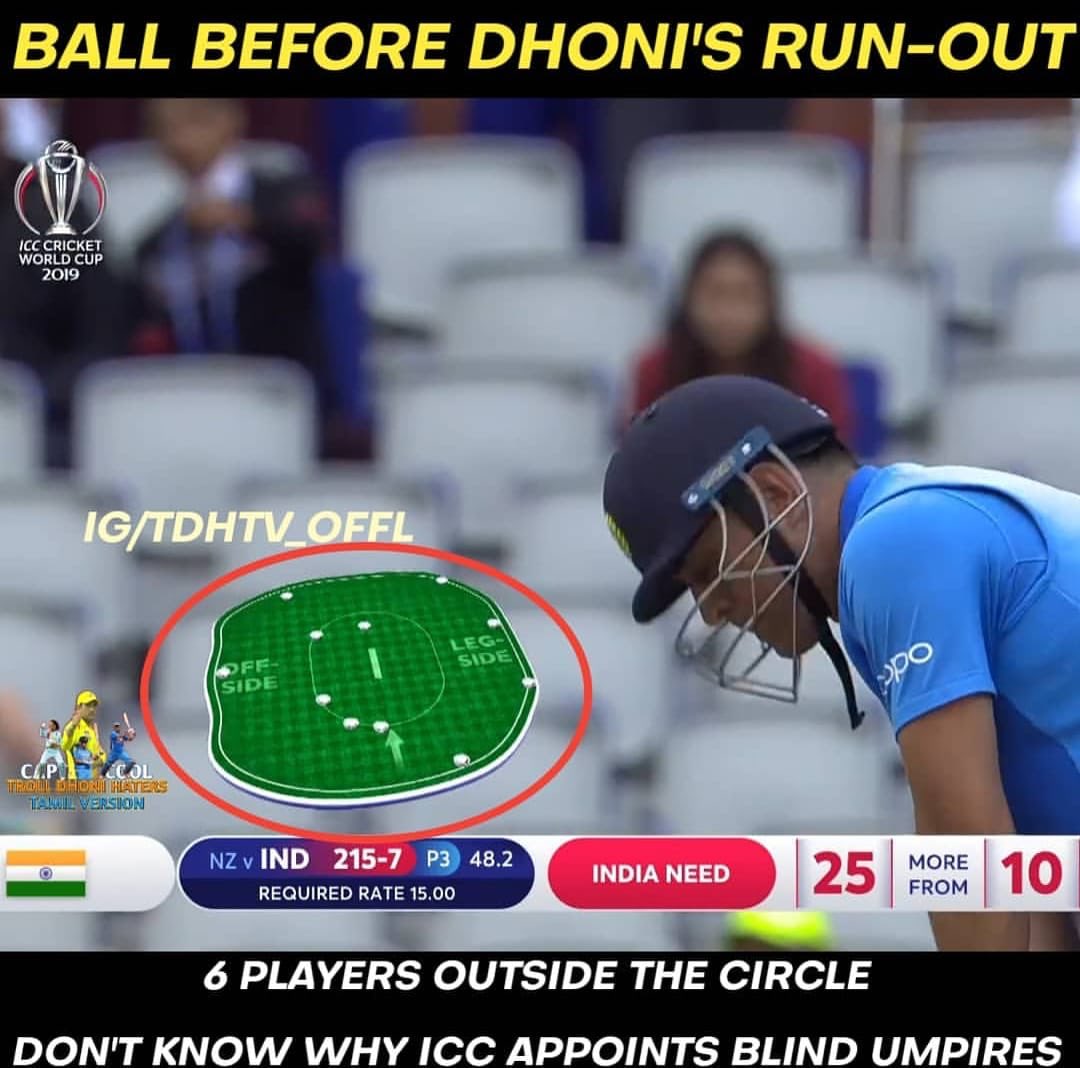 Though a run-out can still happen and it counts, it is tough to imagine whether or not, Guptil would have been fielding where he was eventually. Also, things could have been different with a free-hit the next ball. Hard to say.
Pant And Jadeja Shine Despite The Loss:
Rishabh Pant looked solid while batting, while Ravindra Jadeja just played one of the best innings of his life. He was on fire, since the start of the day and was unlucky to get out at the wrong time. With that being said, he has totally silenced his critics now for good and should be a main-stay in the team now.
On the other hand, Sourav Ganguly seemed to be really impressed with Pant and so were the fans. Hopefully, this is his time to shine now and cement his place in the team for good.