Karim Mostafa Benzema, from starting as a ball boy in Lyon to scoring 31 goals in 51 games for the same to becoming a Real Madrid legend, this man's life story is quite a fantasy tale. It's hard to describe a player of Benzema's quality. The French international has changed his role not once but twice in his career which happened to be a major sacrifice for the betterment of his team and teammates. "Criminally underrated" should I say? I do not know. I am not the best judge for that.
Breaking into a team at a young age around 2005-06 with stars like Eric Abidal, Florent Malouda, Sylvian Wiltord and Michael Essien in the Lyon squad is always challenging but for Karim, it was the opportunity to show the world his true potential. 2007-08 season happened to be the season where the world got to know about Karim Benzema. After forming a special relationship with new manager Alain Perrin, he responded with 31 goals in 51 games. He topped the league with 20 goals, scored four goals in the Champions League, one in the Coupe de la Ligue and totalled six goals in six Coupe de France matches, helping Lyon win their first-ever double. Some of his more dazzling performances that season included a hat-trick against Metz on 15 September an equalizing goal in the 90th minute from a free-kick against Derby du Rhône rivals Saint-Étienne and a goal against Lens that was nominated for goal of the season by fans. This was enough for convincing Florentino Perez to break the bank and bring the French forward to Bernabeu.
Life wasn't easy for Benzema in the Spanish capital. Benzema began appearing mainly as a substitute as manager Manuel Pellegrini preferred Gonzalo Higuaín in the lead striker role. To coincide with his benching, the striker was also being criticized by the Spanish media for his under-performance and difficulties settling in the country as he had not yet begun learning the Spanish language. He was even declared the "new Anelka" by a Spanish newspaper Marca blogger, referring to former Real Madrid striker Nicolas Anelka who had a tumultuous year at the club before being sold. Benzema was defended by his compatriot Zinedine Zidane, who admitted "after two months, I was also criticized" and that Benzema was "a talented player and talented players in Madrid must win".
Ahead of the 2010–11 season, Benzema switched to the number 9 shirt as Real Madrid were under the tutelage of new incoming manager José Mourinho. The striker immediately drew the ire of Mourinho who declared to reporters during a pre-season media session that "Benzema must understand that he is extremely talented, but that in itself is not enough", while also stating that "[Madrid] need a striker who is sparky, not one that is listless". Mourinho sentiments were later echoed by incoming France national team coach Laurent Blanc who acknowledged that Benzema was "not used to working". Blanc also stated that the striker needed to shed weight to fulfil his potential.
Following the arrival of Emmanuel Adebayor on loan, Benzema went unused in two consecutive league matches in February 2011. He returned to the starting lineup on 19 February and embarked on a run in which he scored ten goals in eight matches. Included in those ten goals were doubles in three straight matches against Málaga, Racing de Santander and Hércules, as well as a goal in the first leg of Madrid's Round of 16 tie against former club Lyon. Finally, he managed to make a significant mark in the Madrid shirt.
Before the start of the 2011–12 season, Benzema, taking the advice of compatriots Blanc and Zidane, ventured to Merano, Italy, to attend a high-performance clinic where he underwent treatment to reduce his weight. The spell at the clinic was ultimately a success after the striker arrived at pre-season 8 kilograms (18 lb) lighter. While at the clinic, Benzema also underwent physical training to build up his muscle mass. The striker was impressive in the pre-season scoring eight goals in seven matches. His performances during the pre-season resulted in Mourinho naming him the starting lead striker for the new campaign. Mourinho was later credited with Benzema's transformation, but denied full responsibility and, instead, gave credit to the striker himself.
"Benzema deserves full credit for his transformation. He had some help from me, from his teammates and Zizou, but he deserves the credit."
—José Mourinho, on Benzema's successful progression in 2011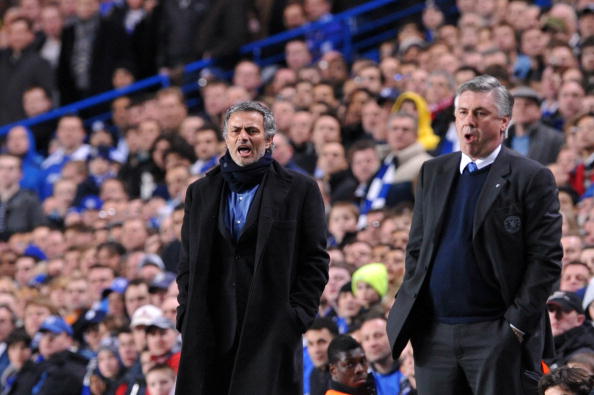 Until the arrival of Carlo Ancelloti (followed by Zinedine Zidane himself), Benzema played as an out and out number 9. However, with the signing of Gareth Bale for 100m in 2013 Benzema's role in the squad changed. Both Ronaldo and Bale got deployed as inverted wingers while Benzema dropped into a deeper role to make space for the other two to make runs and cut into the box.
This proved to be a vital system behind Madrid's 4 successful UCL campaigns in 5 years. However, every luxury comes with a sacrifice. As good as Benzema's dribbling, vision and passing were, his finishing drastically declined. It went to such a low level that he managed to score only 5 league goals in the entire 2017/18 season. The missed chances proved to be vital whenever Ronaldo was rested as Madrid had a horrendous domestic season. He was again under scrutiny and Zidane was questioned for trusting Benzema to be still the no. 9 of Madrid.
Following both the departures of Zidane as well as talisman Cristiano Ronaldo, to most people's surprise it was him who was the shining beacon for Madrid in the entirety of 2018/19 season. He not only got back his goalscoring boots, but his goals also gave Real Madrid a respectable finish in the league after a disastrous campaign. The purple patch hasn't ended as he scored 4 goals in 4 league matches so far into the new season.
To sum it all up, the number "9" behind his shirt doesn't describe who he is. To compare him with the likes of Lewandowski, Aguero, Suarez is extremely unfair because Karim is a different breed of a striker. He can play as a target man, a wide winger, a centre forward and times as a no. 10. His exquisite dribbling skills and understanding of the game makes him unique.
Despite being not the main goal-scorer of the team for the majority of his career, the French forward has 300+ goals to his name in 10 years and is also the 4th highest UCL scorer with 60 goals without being sent off even once in his whole career. I've heard a lot of people saying that Real Madrid deserves a better no. 9 than Karim but Madridistas who had been following his rise and fall from the beginning knows exactly what the Frenchman brings to the squad. From Jose Mourinho, Don Carlo, Rafa Benitez, Zinedine Zidane to Santiago Solari he has been THE undisputed striker and is currently the heart of the attacking line for the Blancos.
Perhaps, more prolific strikers will eventually replace him but I doubt anyone will be willing to sacrifice the things he has made for the badge. He has been a true servant to the club and we are extremely grateful for his services.