The Mourinho Comment- Jose Mourinho's team's playing styles have been under the criticism at each of his clubs. The situation at Tottenham Hotspur is no different. After Tottenham's 1-1 draw against Manchester United at home last week, there were questions raised again. These were about if Harry Kane should leave Spurs. The England international failed to touch the ball in the opposition's box in that game.
That was his first appearance for Spurs in six months. However, Kane has answered the questions in the West ham game scoring two goals. He helped in earning all three points for his side in the London derby.
The Portuguese manager who has previously been in charge of Chelsea and Manchester United said, "Harry Kane has no problems at all to score goals in my team. Especially when he is fit, when is fresh, when he has routines of playing that is my message to somebody."
Mourinho added that it is the first time he has got all six of his attacking players together in this season. It was the one thing that was delighting Mourinho. Though let's see how things go now.
What Mourinho Said?
"(Steven) Bergwijn and (Erik) Lamela, Lucas and Son (Heung-min), Dele and Harry, six attacking players, all different, all very good and it is the first time I have all of them available, which is the kind of problem which we coach love."
Kane, who scored his 137th goal in the Premier League has now set a new target for his personal achievement. The Tottenham forward wants to become the third player in the history of the Premier League to reach 200 goals for his club.
The Harry Kane Comments
Kane told Sky Sports in a recent interview, "I am still only 26 so hopefully I can get to that 200 mark sooner rather than later and go from there. Scoring is the best feeling in the world. Two hundred games… it goes so quick. The years fly by and you have to make the most of it."
Kane also defended his boss after putting a class showing against West Ham and says he has no problem with Jose Mourinho's playing system. The Spurs star has made it clear in his recent interview that Tottenham's target this season is to finish in the top four and qualify for next season's Champions League.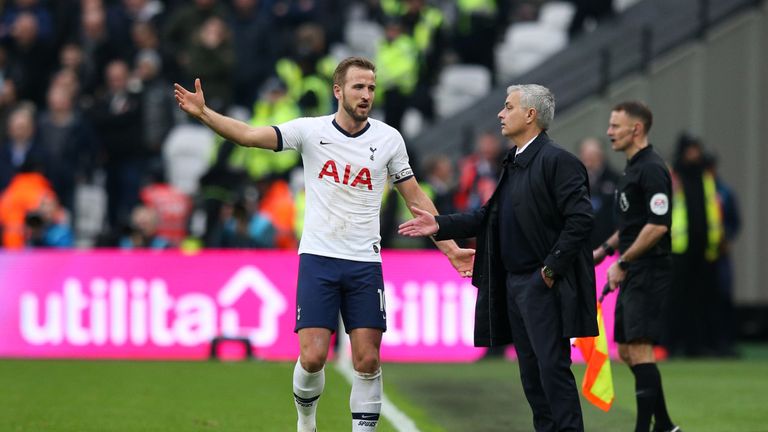 The Story Continues
Kane told BBC Sport after the end of the West Ham game. "I have got no problem with how the manager plays. He is here to win, we are here to win games. Obviously, this season, to get into the Champions League and next season to progress and try to win something."
"We have got to try to finish in the top four," he said in an interview on Spurs' official website.
"There is no doubt about that. Realistically we are going to have to win seven or eight of the games we have left to get in the Champions League," said Kane.
"That has got to be our aim and we have got to make sure we finish strongly if we want to be playing Champions League football next season. Everyone is fully fit now and we are confident we can finish strong."