In a lopsided Test Match that New Zealand took only four days, to sum up, the Hagley Oval saw more than a few records were broken. Kane Williamson reached another double century this season, Daryl Mitchell followed up by his maiden hundred, the Kiwi skipper took his first test wicket in five years (which was also the first by a spinner at the venue) and Kyle Jamieson registered his first 10 wicket haul in a Test match.
No Beating The Number One Test Team And The Video Of Kane Williamson That Went Viral
"No 1 test team" the crowds chanted as the No 1 test batsman walked back to the pavilion defeating a lousy Pakistan by an innings and 176 runs. This win has pushed New Zealand in contention for a spot in the ICC World Test Championship final.
Even Kane Williamson is picking wickets ? pic.twitter.com/4A9KtWj2xM

— cricket videos (@middlestump5) January 6, 2021
However, it was Kane Williamson's first test wicket as captain that made netizens drool all the way. Bowling to tail-ender Shaheen Afridi, Williamson floated up a genuine off-spin, getting an edge that carried to Ross Taylor in the slip. It was Shaheen trying to slog at the Kiwi skipper and he paid the price.
Kane Williamson And Kyle Jamieson Totally Dominated The Game
Kyle Jamieson, on the other end bowler a phenomenal spell for the home team. Every ball coming out of his long arm seemed a wicket-taking delivery in the first session. Dismissing Shan Masood on the previous day, Jamieson carried on with Abid Ali's wicket in the morning.
Azhar Ali, Harris Sohail, Mohammed Rizwan and Faheem Ashraf's wickets followed. The youngster finished with six wickets in his quota, whereas Trent Boult came back with three. Trailing by 362 from the first-innings deficit, Pakistan folded for 186.
Talking about Kyle Jamieson and the summer, Kane Williamson said, "It is an incredible couple of games. Even though the result on paper was in our favour, but Pakistan is a quality side. We worked hard and got lucky with a few moments. Kyle is a special cricketer. He's gone a long way to moving this team forward and complementing the bowling attack. Daryl bats higher and bowls a few more overs, but the attitude both of them brought in was great to see."
"Quite sure there are many more hundreds to come Daryl's way. It was a real battle for a long time. The runs were tough to come by as Pakistan bowled great lines. The openers gave us a great start and Nicholls batted with a calf muscle injury and it was an incredible effort. Really pleasing performance, nice to finish the Test summer on a high."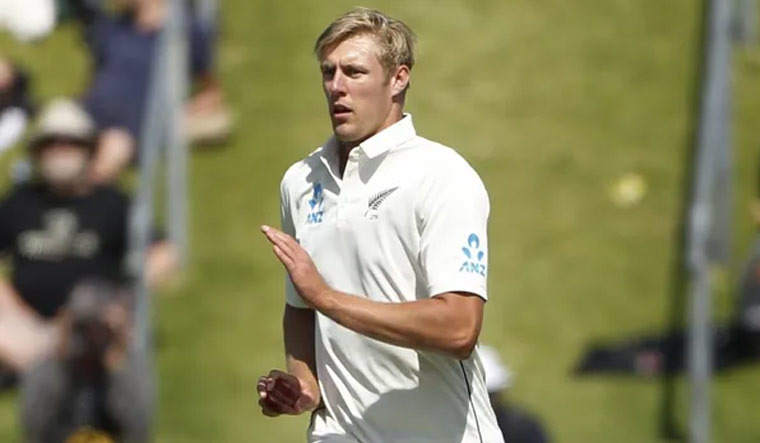 The Other Hero Of The Team Who Stole The Show And Won Player Of The Match
Jamieson, who was awarded the player of the match, spoke more about the learning. He said that he'll be donating the money to his old cricket club.
"We had to graft away for decent periods of time. As a bowling unit, we were clinical. From my point of view, just sit back and learn. We have got the four-pronged attack. I am the fourth prong. Try and observe what these guys have done for the years. I will give it to my old cricket club (when asked about a 500 dollar donation on behalf of the main sponsors)," Jamieson said in the post-match ceremony.