Social Media rifts should be left online and that is about. Players often have disagreements on Twitter and then it is seen on the field too. However, that was not the case between Sarfaraz Ahmed and Mohammad Hafeez. The two had a recent spat on Twitter about a few things. However, they sorted things out on the pitch recently.
What Was The Incident That Took Place On Twitter?
There was recently an argument on Twitter between the two players. This caught the attention of the cricket fans. Below are the set of Tweets that set Social Media on fire.
Congratulations @iMRizwanPak on scoring T20 ?????. U r a Star shining star ? Wonder how long u need to prove that u r NO1 wicketkeeper/Batsman in pakistan in all formats of the game. Just asking ?? pic.twitter.com/e5fSNIaCmN

— Mohammad Hafeez (@MHafeez22) February 11, 2021
Hafeez bhai Sb, whoever has played for Pakistan from Imtiaz Ahmed, Wasim Bari, Tasleem Arif to Saleem Yousuf and from Moin Khan, Rashid Latif to Kamran Akmal and even Rizwan right now has always been number ONE for the country and have been respected accordingly. https://t.co/dF7BScOurl

— Sarfaraz Ahmed (@SarfarazA_54) February 12, 2021
We are all behind Rizwan and wish that he plays many more amazing innings for our beloved country.

— Sarfaraz Ahmed (@SarfarazA_54) February 12, 2021
Shallow minded approach EXPOSED!

— Mohammad Hafeez (@MHafeez22) February 13, 2021
A lot of fans would have thought that this exchange would not go down well between the two players. However, that was not the case.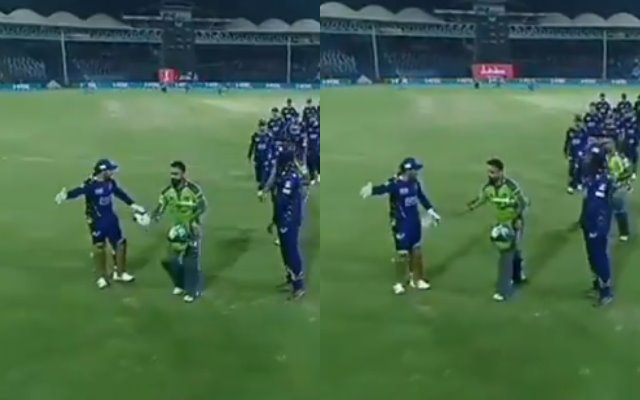 What Happened After The Game Between Sarfaraz Ahmed And Mohammad Hafeez; Video Goes Viral?
It was a game between the Quetta Gladiators and Lahore Qalandars. The team from Lahore picked up an easy win. Mohammad Hafeez led the way with Fakhar Zaman, as they managed a nine-wicket win.
At the end of it all, Sarfaraz Ahmed tried to spare himself some blushes. He did the right thing and let Hafeez lead them off the pitch. This was a sign of respect between the two players. Below is the Tweet that was shared and went viral-
With all the negativity in Sarfraz Behaviour I've found something positive and that is some respect for Hafeez.?#LQvQG pic.twitter.com/t6f9DMcwzO

— شہزاد عباسی ? (@IamShehzzzad) February 22, 2021
What Next For Pakistan And Sarfaraz Ahmed With The T20 World Cup Coming Up?
It will be a tough call to take for the PCB with respect to which keeper to choose. They have a few good choices to decide from. It will be interesting to see what decision they make. Politics has been a big part of Pakistani cricket.
Mohammad Rizwan is also a player in form. That is why the decision is a tough one to make. It will be interesting to see how things develop ahead of the tournament this year. Sarfaraz Ahmed will want to fight for his place in the team. Only time will tell what the PCB devices ahead of this crucial tournament. Pakistan will want to win it and once again announce themselves to the world.