Latest Barcelona News: After recent claims of adultery on the part of the Pique, it has been claimed that the Barcelona defender and his girlfriend Shakira are planning to issue a statement. There have been new rumours circulating that the celebrity singer's husband cheated on her with a blonde lady.
According to El Periodico (as reported by Daily Star), Pique and Shakira are planning to issue a declaration confirming their relationship shortly. On the other hand, it is not obvious what will be included in the statement at this time.
The journalists, Lorena Vazquez and Lorena Fa of El Periodico claim that the lady with whom Pique is accused of having an affair with Shakira is a student in Barcelona. She works as an event hostess in the city.
It is easy to see why this is considered to be the worst moment of their relationship. According to the article, the couple has been living apart for the last several weeks ever since it was discovered that the defender had been unfaithful.
The guy from Barcelona is known to call his home a bachelor pad. Moreover, reports say that he is often seen going out to nightclubs. He also throws parties at his home.
After both sides have made their views public, there ought to be a little more light shown on the situation.
Latest Barcelona News: According to reports, Gerard Pique intends to see out the remainder of his contract with Barcelona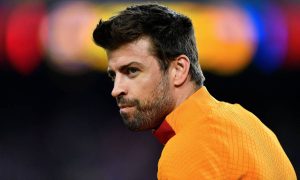 It has been claimed that Pique will not be retiring at the end of this season. He hopes to see out his contract with Barcelona, which is set to expire in 2024.
According to Mundo Deportivo, the defender believes that he will be able to heal from his injuries. He can continue to play for the club throughout the next season. During the previous campaign, he participated in 39 games across all competitions and contributed three goals.
In 2020, he put his signature on the contract. But the following year, in 2021, he was forced to accept a pay cut of fifty percent. In light of the financial difficulties facing the Blaugrana, he did so to ensure that the club would be able to sign Sergio Aguero and Memphis Depay.
He has declared that he will stand down on his own if he believes that he is not physically capable. He said:
"If I perceive that I am losing relevance or if I see that I am not at the level, I have no issue leaving early," he told.
He returned to the club in 2008 from Manchester United. After this, Pique has spent the whole of his professional career with the Blaugrana. He has high expectations that he will be able to maintain his fruitful affiliation with the club for some time.
It is still unclear what effect, if any, the suspicions of cheating will have on his future in football.