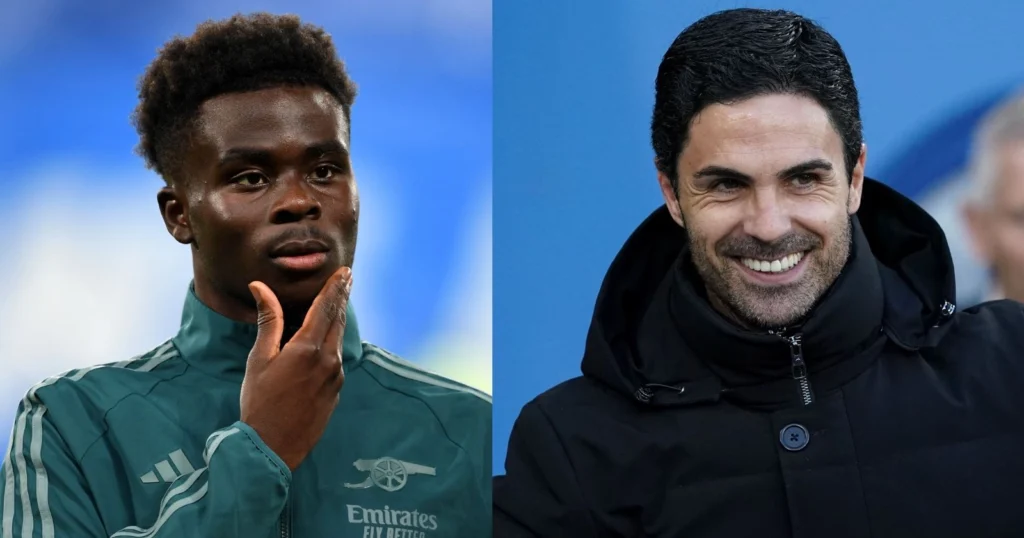 Arsenal: Arsenal's manager, Mikel Arteta, has made his intentions crystal clear. As per reports from Football Transfers, Arteta has set his sights on Wolverhampton Wanderers' forward, Pedro Neto, as the prime candidate for the upcoming January transfer window. This decision has sent ripples of excitement through the Arsenal fans, and there are compelling reasons behind it.
Arsenal, the renowned London giants, have kicked off their top-tier campaign in an impressive fashion. With 20 points out of a potential 24, they currently occupy the second position in the Premier League standings, narrowly trailing behind Spurs on goal difference. Their performance has been nothing short of exceptional, leaving fans eager to see if they can sustain this momentum as they approach the January transfer window.
his time, Arteta seems to be contemplating a parallel move for the right flank
Ivan Toney, the prolific striker from Brentford, has been the subject of fervent discussion in recent weeks. Arsenal's name has frequently surfaced as one of the interested parties in securing his services. However, the path to acquiring Toney may be laden with obstacles. Reports indicate that Toney's price tag could reach a substantial £80 million in the next transfer window. Moreover, Arsenal could face stiff competition from their London rivals, Chelsea, in the quest to secure Toney's coveted signature.
Given these circumstances, Mikel Arteta's preference for Pedro Neto becomes all the more intriguing. But what sets Neto apart as the chosen one? Let's delve into the compelling reasons that make him an ideal fit for Arsenal.
Last winter, Arsenal bolstered their left wing with the acquisition of Leandro Trossard. This time, Arteta seems to be contemplating a parallel move for the right flank, where Pedro Neto thrives. The Portuguese forward has enjoyed a stellar start to the season, contributing with one goal and five assists. His performance strongly suggests that he could be a valuable addition to Arsenal's squad, particularly in light of their occasional over-reliance on Bukayo Saka on the right wing.
One standout aspect that makes Pedro Neto an enticing prospect is his remarkable resilience in the face of injury setbacks. The young Portuguese player has displayed immense character in bouncing back from long-term injuries. Such resilience is invaluable for Arsenal, as they require a dependable option on the right flank. While Saka has consistently delivered in terms of goals and assists, managing him more cautiously can help prevent potential injuries that might disrupt the team's performance.
Arsenal Has Decided To Spend £60 million On Pedro Neto
Wolverhampton Wanderers, Pedro Neto's current club, had valued him at approximately £50 million during the last summer transfer window. The club has encountered financial challenges that have curtailed their spending on transfers. Given their circumstances, it's highly unlikely that they would rebuff a lucrative offer from Arsenal for Neto. The prospect of a substantial transfer fee could offer a much-needed financial lifeline.
Mikel Arteta's preference for Pedro Neto over Ivan Toney represents a pivotal development in Arsenal's transfer strategy. Neto's potential to reinforce the right flank, his resilience in the face of injuries, and Wolverhampton's openness to consider transfer offers all combine to make him a compelling choice for the London giants.
As we eagerly anticipate the January transfer window, it's evident that Arsenal is preparing for a strategic move that could bolster their squad's depth and performance. The entire footballing world will be closely monitoring whether Pedro Neto adorns the iconic red and white jersey at the Emirates Stadium, potentially becoming a linchpin in Arsenal's pursuit of glory.