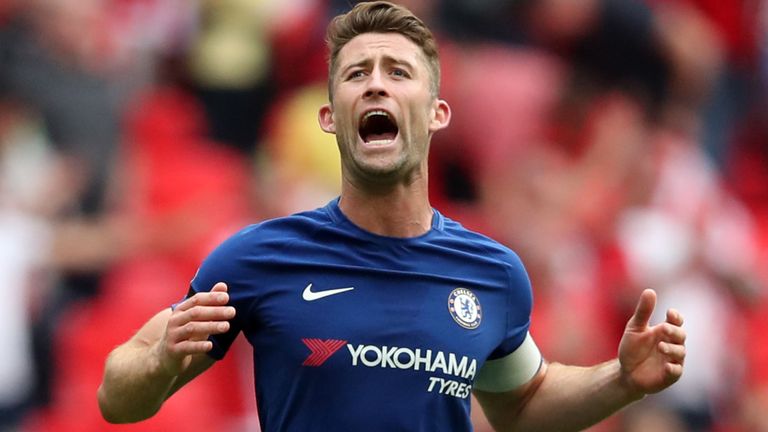 According to a recent report, ex-Manchester City and England defender Danny Mills has suggested that Premier League giants Manchester United should sign former Chelsea man Gary Cahill. The 42 year old right-back, who is now a Pundit has stated that his compatriot is quite experienced and available on a free-transfer, due to which Solskjaer should consider adding him to the squad.
The Red Devils' defensive line has been struggling in the previous campaign and the Manchester based side are looking for a major overhaul in the current transfer window. Due to this, they will be looking at the various defensive options that they have and Cahill could be one such player too.
At the age of 33, the former Blues' skipper left Stamford Bridge due to Maurizio Sarri's disrespectful treatment. He was keen on regular game-time, though was not-at-all used by the Italian boss. This had not made the centre-back happy and he decided to pursue football elsewhere.
Though it is still not certain which club he will join now, some of these top English clubs could be interested in his services. On the other hand, Cahill himself would be keen to remain in his native country during the twilight of his playing career. He will want to hoping that he will be presented such an opportunity and the clubs who are looking at defensive free-agents, could surely sign him.
About signing the veteran defender, Mills spoke to talkSPORT and had this to say, "If you want someone to come in to play two thirds of the games next season, and also bring professionalism, experience and be someone players can learn from on and off the pitch – he can add all of those things to the club."
"It is a no-brainer to take him. He will just want to play and be a part of it… why are Manchester United not interested? They are desperate for a centre-half."
Well, as suggested by Mills, United are in dire need of central defenders and can consider bringing him in, during the course of the current transfer window. Whether or not Cahill agrees to sign for the Red Devils is another thing. They are Chelsea's fierce rivals and it may not be liked by the fans of his former club (which is a major factor).
Another option is going to Arsenal, which could also be much more feasible than a move to Manchester, as then Cahill would not have to leave London and move elsewhere. He could follow the same path that goal-keeper Petr Cech followed when he jumped ship and signed for the Gunners, though he will want to make a much more positive impact at the Emirates, if the deal does indeed happen.
Only time will tell whether either English giant listens to Mills and signs the player or not. For not, Cahill will be looking for a new club where he can ply his trade, win some titles and end his successful career on a high note. Which club will that be, remains to be seen.