According to reports from Bild, FC Barcelona is considering making a move for Borussia Dortmund Star Jadon Sancho. The report also goes on to reveal that the German side is interested in Ansu Fati. FC Barcelona is desperately searching for an out and out winger in the transfer window. For that role, Neymar Jr is at the top of their priority list. However, there are a lot of complications involved in this move.
Hence, if this move does not go through for any reason, they have identified Jadon Sancho as the alternative. Dortmund has set the price tag of Sancho at €130m. BILD's report followed claims from Diario SPORT say that Borussia Dortmund could make a move for Barcelona teenager Ansu Fati if Sancho leaves this summer.
Diario SPORT reports the interest on Jodan Sancho from FC Barcelona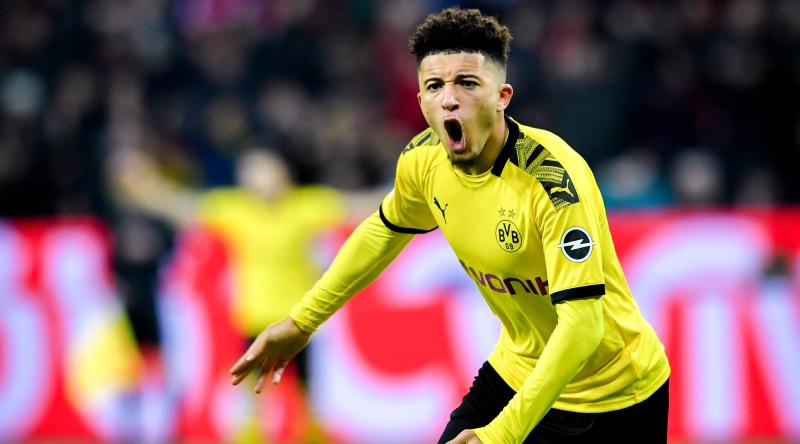 Manchester United is the club who has shown the most interest in Sancho. The Old Trafford side has prioritised to bring Sancho. They want to bring a top English player to regain their lost identity in the long run. Jodan Sacho is ranked eighth in the list of most valuable players in the world. Mbappe, Sterling, Neymar, Kane, De Bruyne, Salah and Mané are respectively ahead of him. Sancho's transfer value is around €117m at just 20 years. FC Barcelona and Dortmund do have an improved relationship between them after the Ousmane Dembele deal.
Barcelona has to pay around €170m for Neymar Jr. Considering the current situation of FC Barcelona, this is a very tough move. However, Neymar will need no adaptation in the club while Sancho will need some time to settle here. Sancho is young and has his best years ahead of him. Neymar, on the other hand, is at the peak of his career but is dealing with a lot of injuries. So, age is a very big factor in the move.
Mundo Deportivo has denied the reports though
However, another Spanish newspaper Mundo Deportivo has denied the reports of this move. They have denied that Barcelona is interested in Jodan Sancho. According to them, Barca feels they have a good amount of alternatives for that position and is focusing on other positions and players.
It will be interesting to see if any club can pay the €130m that Dortmund has set for Sancho. Dortmund is in no hurry to sell the Englishman as Sancho's contract expires expire at the end of the 2021/22 season. Sancho has scored 17 goals and assisted 16 times for Dortmund. He has been one of the most important players for Borussia Dortmund.
What Barca Wants!!
In either case, Barca will be keen on winning the Champions League title. They will want to get in some players who can help them do that. For that purpose, they will be keeping their eyes open for some young talents. Sancho fits the bill and it will be interesting to see how this move develops.
Let's hope that the best club is able to sign him. The player is a Manchester United target as well. The Premier League giants look keen to bring him to Old Trafford. Let's wait and watch now.