A brace from Gnabry and a late header from Lewandowski ensured Bayern Munich ensured a victory in the semi-final. It could have been a lot different if Lyon finished their chances. Hanski Flick's side showed ruthless in attack but also caused enormous trouble on themselves with their high-line as Lyon almost downed them with early chances. 
Memphis Depay and Toko Ekambi had their respective chances to help Lyon dominate early proceedings but were unlucky to lack composer even in front of an empty net. Bayern took full advantage of this with a moment of class. Serge Gnabry scoring a Robben-esque goal to give his side the upper hand. The winger got into the act soon after by scoring in an empty net after Lewandowski's fluffed his lines.
Neuer in the second half got big to save an effort from Toko Ekambi in acres of space on the end of a Houssem Aouar's pass. Lyon didn't provide any more threat after failing to convert their early chances. The Pol wrapped it up everything late by meeting Kimmich's free-kick delivery to head in his 15th goal in Champions League and securing the place to the Finals.
Even though, Bayern won there were some aspects of the game Hansi Flick will look to improve before they face the likes of Neymar and Mbappe on the main stage. 
Their high-line defence won Bayern the match
One sign of Bayern's ruthless attacking force is that they love to keep an incredibly high line to press the opposition to force mistakes. But this also bites them back sometimes. As seen in the Barcelona game, the positioning of Luis Suarez caused them an issue or two but the toothless attack didn't do much harm.
Also, they didn't face any runs in between the lines in the quarterfinal tie. In the semis, things were different. Toko Ekambi and Memphis Depay provided enough speed and most importantly narrowed Boateng and Alaba to make runs from wide. Cornet also got into dangerous position number of times. Unfortunately for Lyon, they didn't do the most with the clear chances they received through it. Bayern may play to their danger if they allow a more clinical deadly front three of PSG to make runs in behind them. So, it is a challenge for Bayern to keep the perfect balance when to activate their high defensive line.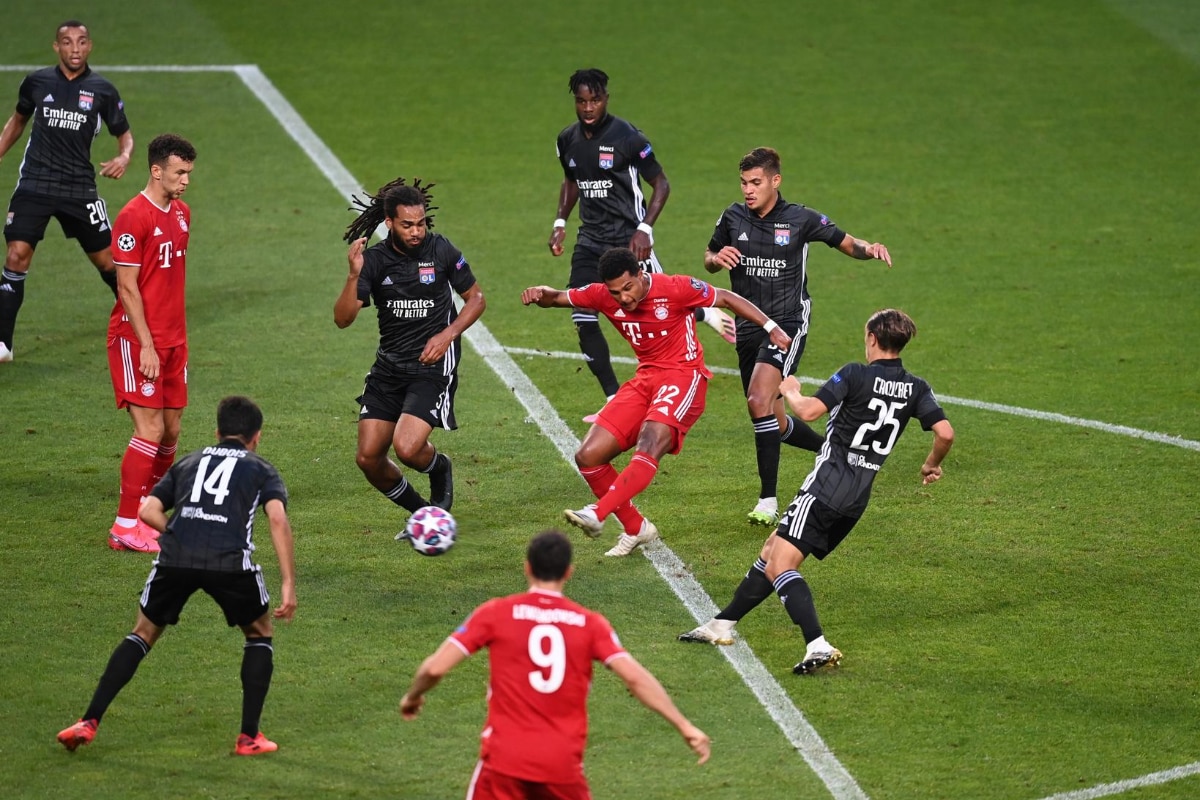 Gnabry the hero for Bayern Munich
But that defensive line aids Bayern's attack that is now a nightmare for PSG to defend. Basically Gnabry with his two goals flourished from it. Kimmich played a searching ball to him on the right, he came inside and hammered a fine goal with his left boot. Something that Arjen Robben did for the entirety of his career. Gnabry is slowly looking to be the Dutch legend for the Bavarian. With Leroy Sane in the ranks for next season, he will make the right flank his area of dominance.  He got on the score sheet again to complete his brace with the easiest of chances and help Bayern wrap up the game completely. He also gave Cornet a difficult task to keep him in his cage. The 25-year-old is entering the prime of his career and more sparkles yet to arrive from him.
Thiago and Kimmich the unmatched duo 
Bayern is relishing these two in their squad with both exceeding expectations in each and every game. Thiago and Kimmich dominated the midfield for the Bavarians in the Bundesliga and Champions League group stages. But with the German shifting to right-back, another position he's world-class in following Pavard's injury, they got an edge over others in these knockout phases. The 25-year-old hunger from wherever position he plays just makes the job a lot easier. His two assists gave the defining moment of the game. Thiago is shining as ever. His impressive passing added by his defensive duties in blocking off penetration from the middle makes him an engine for the team. His presence allows Bayern Munich to put enough bodies upfront without worrying too much.
Lyon's fascinating midfield duo 
If Thiago and Kimmich do world-class things for Bayern, Caqueret and Aouar also excel in their task for Lyon. First of all, both does an immense job to press opposition's midfield. Houssem Aouar once again showed just why he is attracting so much interest from big clubs around. The 22-year-old is sensible and reads the game fraction of a second. His combat over the ball and decision to play and when to hold makes him a player to watch out for. Pep Guardiola described him as 'incredible' after he crushed Manchester City in the quarters with his defence-splitting passes.
When Aouar is getting all the limelight, Caqueret is also doing a fascinating job.  The 20-year-old starlet is good at pressing top passers like Thiago and Pjanic to stagnate them with his position and intercepting forward passes. It is he who helped Lyon's second against City and last night produced that glorious chance for Depay. 
PSG vs Bayern Munich is set
So the incredible game to be played on Sunday evening is set. The final destination, Lisbon will conclude the mini-tournament of the Champions League with two European Juggernauts taking part. It will be more of both defence's test to keep each other's attacking threat out.
Paris with their front three will look to isolate the opposition's back four because of the German team's high-line while Bayern will create havoc with their central overload and also from the width to make the evening tough for the Parisians. All around, we are in for a treat between the two managers that need to outwit each other with their tactics. This will be to get hold of the prestigious trophy.