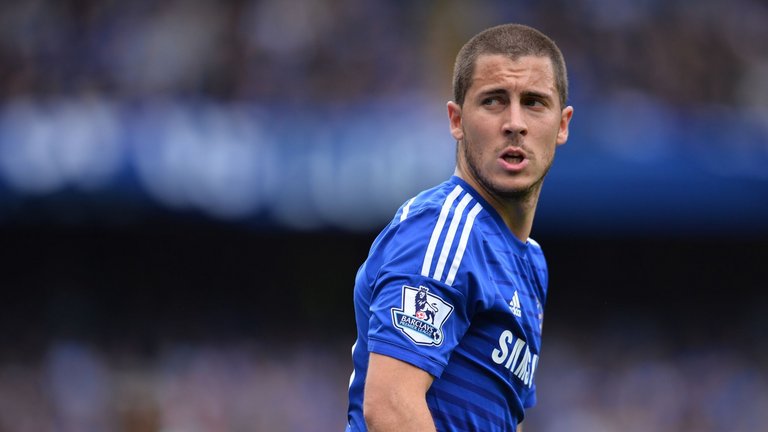 As the World Cup finally ended, the transfer market kept getting busier day by day. The World Cup which witnessed the departure of several big teams, saw France eventually win it. As the transfer media is getting engaged with the reality of Cristiano Ronaldo's exit from Madrid and his move to Juventus, the fans of the Spanish giant seemed too concerned with this heart-break. The Champions League winners maintained their same old squad for last three years more or less and it seems they may use their all stored cash to put in Europe's best in their bucket. Though it is all are in the stage of rumours, but as it is reported, Chelsea's Eden Hazard may join Madrid this season.
The Belgian forward has earned his reputation as one of the world's top creative forces during his six-year spell at Chelsea. Madrid's ex-manager Zinedine Zidane was the driving force behind Real Madrid's interest after this star player.
Real Madrid loves high profile signings and it seems president Florentino Perez is desperate to bring potential faces to Santiago Bernabeu. As the former Chelsea defender Frank Sinclair believes that Hazard must join a club like Real if he wants to reach the level of Cristiano Ronaldo. It is expected that Chelsea will try their best to hold on their best player, but as Madrid is heavily linked with the Belgian, one can expect there is a huge chance of his departure from Bridge.
Moreover, Gareth Bale is also leaving Spain and departure of two big names may create a hostile situation for the Los Blancos. Bale was the hero of Champions League final against Liverpool, though he struggled throughout the season due to injury. Premier League clubs like Manchester United and his old time side Tottenham have shown interests. Hazard was the main target for Zidane.
Though the time has changed and Zidane is no more at Santiago Bernabeu. Se whispers are also there that with Isco and Marco Asensio still being part of the squad, it would not be enough for Hazard, who is looking to pursue a salary of £300,000 a week.
According to some other sources, Bayern Munich hitman Robert Lewandowski is also being watched by the Spanish side. On the other hand, rumours are also getting interesting as news are craving in about the Brazil forward Neymar and Real Madrid. Neymar is leaving the French club this season and may reunite with Spanish league, but this time it would be Real Madrid.
The Brazilian is being rumoured to get a €300m transfer amount, which would be another record-breaking milestone for him. Neymar would be a perfect replacement for Ronaldo, where Hazard would be of Gareth Bale.
Neymar and Hazard are both having a fine time at Russia, where they will face against each other in the quarterfinals. Brazil and Belgium are both regarded one of the favourites where Brazil may look slightly ahead due to defensive compactivity. It would be a game of personal brilliance and momentarily overlaps.
What Next!!
It was believed that Zidane was one of the main reasons why the Belgian international wanted to move to the Bernabeu and with the French manager leaving, the deal might not happen. However, with Cristiano Ronaldo signing for Juventus, there is a huge void in the Real Madrid squad, which manager Julen Lopetegui will now want to fill and fast.