The Incredible River Plate Story- 20+ Covid cases. Goalkeepers ruled out. No list changes allowed, Just 11 players available! Midfielder Enzo Perez starting the game as GK versus Santa Fe in Copa Libertadores. Perez plays the match through a hamstring injury. Imagine going into the game with such a dire situation and coming out of it victors.
Yes, River Plate won the game 2-1. What an incredible night for the River Plate side and an incredible night. This will surely take a place in their history itself. Some moments of madness mixed with a few moments of determination, giving them the perfect result.
Massive Covid outbreak in the River Plate squad in Argentina last Saturday ruled out 20 players from the side including all four goalkeepers. A request to register their fifth and sixth-choice goalkeepers were also rejected by the South American Football Confederation (CONMEBOL).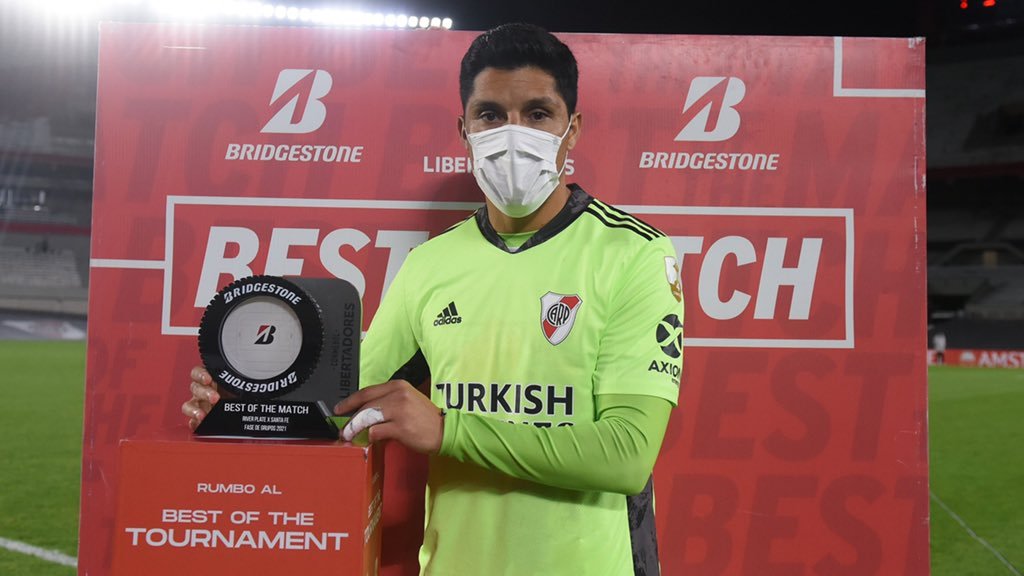 River Plate recently got eliminated from the Copa de la Liga after their defeat to Boca Juniors on Sunday. With two players injured, River's coach, Marcelo Gallardo, hardly had only 11 players to line up. Experienced midfielder Enzo Pérez, played as a goalkeeper, as the four goalkeepers in the Libertadores' list are all with Coronavirus.
Here is a list of River Plate's positive Covid cases during the last four days:
Goalkeepers: Franco Armani, Germán Lux, Enrique Bologna, and Franco Petroli.
Defenders: Paulo Díaz, Robert Rojas, Gonzalo Montiel, and Alex Vigo.
Midfielders: Leonardo Ponzio, Bruno Zuculini, Tomás Castro Ponce, Santiago Simón, Nicolás de la Cruz, and Agustín Palavecino.
Forwards: Rafael Santos Borré, Matías Suárez, Federico Girotti, Benjamín Rollheiser, Lucas Beltrán, and Fabian Londoño Bedoya.
It is needed to say that River had their chance to have 50 players included in their Copa's list before the tournament kicked off. All other clubs, who are playing international tournaments, had this opportunity by CONMEBOL due to the covid pandemic situation. But River boss Marcelo Gallardo rejected to have that opportunity saying he "wouldn't like to make youths play under so much pressure, in strange conditions," and decided to include just 32 players in the list.
The Brilliant Win For River Plate Despite All The Problems
With so many limitations, River came out on top and won the game 2-1. That too against a decent team, Santa Fe in Wednesday's Copa Libertadores game. Club's veteran midfielder Perez wanted to be a part of the game even though he was injured. Coach Marcelo Gallardo decided to put his experienced midfielder in goal. The 35-year-old Argentinean had probably his most memorable night as a footballer last night which he will remember forever.  Perez rarely had to make any world-class save as he was very little tested by Independiente, who were winless in this year's Libertadores, the South American equivalent of Europe's Champions League.
It was Fabrizio Angileri who put River Plate ahead. That too just three minutes after the start of the game. Further, Julian Alvarez doubled their lead three minutes later. Kelvin Osorio spoiled Perez's bid for a clean sheet when he scored after 73 minutes for Independiente, who introduced 15-year-old Hollman McCormick to the action late on. Enzo Perez won the Best of the match honour, after securing his side's victory. It was not the case that River had to win or any knock out the situation but this win means, River Plate are now top in Group D, with nine points from five matches.