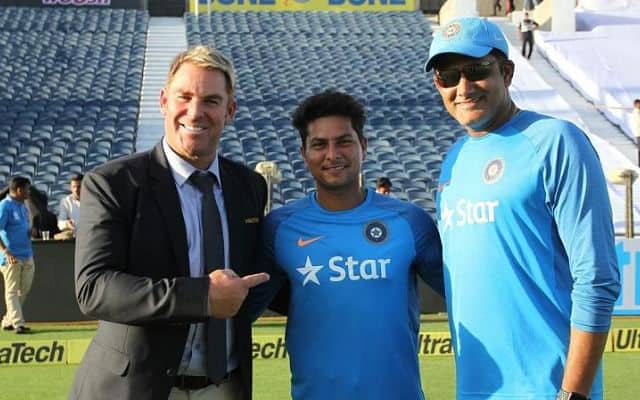 In this season of Big Bash League, a lot of umpiring decisions have gone wrong and the ex Australian cricketer Shane Warne has told that wrong decisions might affect the career of the career and the authorities should include DRS in Big Bash League. The star Australian cricketer has said that it is very much embarrassing for Australian cricket.
The Video Of The BBL That Went Viral
Previously there has been a lot of talks regarding the introduction of three new rules in Big Bash League this season. After that, such wrong umpiring decisions is certainly not a good advertisement for the tournament.
First one given not out, second one given out… #BBL10 pic.twitter.com/Cwun25LfAW

— 7Cricket (@7Cricket) December 28, 2020
Adelaide Strikers have scored 165 runs in 20 overs after batting first in this match. Phillip Salt has given Adelaide Strikers a good start in the match. He has scored 51 runs in 31 balls and the other opener, Weatherald has also scored 18 runs. The opening partnership has lasted for 57 runs. However, the captain of Adelaide Strikers, Alex Carey has not been able to score runs with a good strike rate in this match. Renshaw and Wells have also failed to make an impact for their side in this match. Adelaide Strikers have gone to post a good total on board because of a good inning of Rashid Khan at the end. Rashid Khan has scored 29 runs in just 13 balls.
What Shane Warne Had To Say About The Umpiring
Rashid Khan has been saved once after a wrong decision taken by the umpire. Rashid Khan has not been given out after hitting the ball directly into the pad. However, Short has been given out by another umpire. In the replay, it has been seeming that Short should not be given the order to go back to the dressing room. Rashid Khan has taken full advantage of the wrong decision. He has capitalised on the situation and his cameo has been really important in terms of the result of the match.
I'm sorry but who is in charge of the umpires in Australia ? Every game we see horrible mistakes & it's embarrassing for the BBL completion ! The big bash is a wonderful tournament but it's fast becoming a joke and could ruin players careers. Please can we have DRS immediately !

— Shane Warne (@ShaneWarne) December 28, 2020

While coming to bat, Perth Scorchers have scored 35 runs in first three overs. However, their batting lineup has choked after getting a good start. Wes Agar has taken the important wicket of Jos Inglis. Worall has taken the wicket of the dangerous English opener, Roy. Livingstone has tried to set the tempo of the innings. However, he has not got any good partner in the crease to stay at the crease. Rashid Khan has taken the important wicket of Munro. Munro has gone back to the pavilion after scoring 5 runs in this match. Rashid Khan has also taken the wicket of Hardie.
Mitchell Marsh and Turner have also disappointed Perth Scorchers in this match. Both of them have not been able to stay at the crease for long. It has been a great bowling performance from Adelaide Strikers. Rashid Khan has been awarded Man of the Match before of his all-round performance.
The umpiring decisions should improve in this season of Big Bash League. Otherwise, the tournament will lose its glamour. Shane Warne has addressed the right issue and the league authority should be proactive to take a quick decision regarding this matter in near future.