When there are so many reports and rumors on Manchester United's transfer activity, something great happened on social media too. Alvaro Morata, who was supposed to move to Milan many days back was being heavily linked with a move to Old Trafford, after he liked a post which was about his move to Manchester United on Instagram.
Along with the Spaniard, Gareth Bale and James Rodriguez also did the same, which could mean something big is still on the cards.
The trio was being linked with a move to England and it was the Red Devils, who looked really eager to add them to their current squad, under manager Jose Mourinho.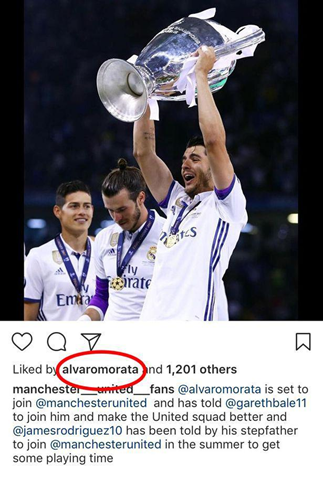 With recent claims, that the 24 year old superstar has agreed a deal with the English giants slowly being the talk to the town, it could be a possibility that the Manchester based side signs more stars from Los Blancos.
The attacking duo have now given the Premier League giants a clear hint that they have been keeping tabs on their social media accounts as well and one of the possible reasons for that could be a potential interest to move away from the Bernabeu.
Meanwhile, the stories suggest that the ex Juventus star has signed a five year deal with United, which could mean that this could be the change that he needed.
The La Liga champions will also be making a good amount of money in the process, with Morata getting a £350,000-a-week contract.
Is he the kind of player that they need and does Mourinho need to add his Real team-mates to the squad? Keep following us for more.