Chelsea is currently fourth in the Premier League table after being held to a 2-2 draw by Burnley at Stamford Bridge on Monday as they wasted their chance to go third in the Premier League table. After Tottenham Hotspur, Arsenal and Manchester United all lost their respective games on this match-day, it was an amazing opportunity for Chelsea to get their lead back into the Champions League race but they failed to capitalize on this chance as they were held to a draw at Stamford Bridge.
The Clarets took their chances well as they held Chelsea to a draw. The Blues wasted their chance to go third in the league table. It was a breathless couple of hours at Stamford Bridge. Burnley took a shock lead in the eighth minute of the game. That was after Jeff Hendrick fired a volley from outside the penalty area.
However, both sides were again on the level when a strike from N'Golo Kante in the 12th minute found its way home, making the scoreboard look 1-1 each. Two minutes from that goal, Chelsea turned the tables completely as an unstoppable close-range rocket from Gonzalo Higuain had Chelsea back in the lead. Again both the sides were back on the level when Ashley Barnes fired a volley at the back-post, making the scoreboard look 2-2.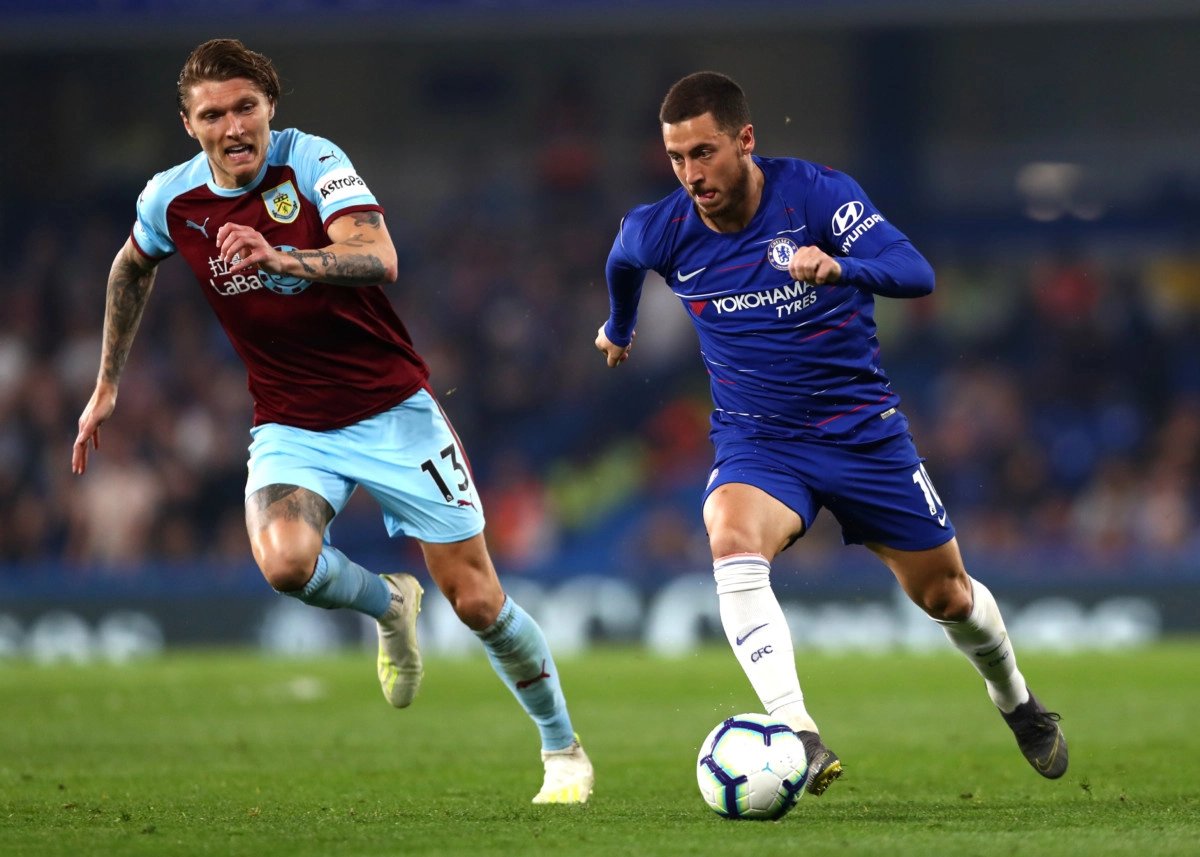 The tension further boiled over when Chelsea boss Maurizio Sarri was sent off for running into a dispute with Burnley's coaching staff. Sarri accused the visitors of wasting time as his team failed to find a winner. He stormed out of his technical area and went down the touchline to chip away at referee Kevin Friend who further took action by sending him off the pitch.
Here are the three talking points from Stamford Bridge:
Tottenham Hotspur, Arsenal, Chelsea and Manchester United all had a chance this weekend to get their lead in the race for 'Top Four' and qualify for the Champions League next season. But it seems that none of them are interested in taking a big step ahead in pursuit of their Champions League ambitions by cementing a place in the top four.
This week's result puts Chelsea one point ahead of Arsenal in fourth place, but also having played one more game than the Gunners. Chelsea are also on level with Tottenham but are behind Spurs on goal difference, while Manchester United remain in sixth place with 64 points and a game in hand over the Blues. Well, all this clearly indicates that the battle for the 'top four' is still on.
2. Sarri-Ball Is Getting Effective
It all took Chelsea just a few minutes to turn the table after Jeff Hendrick fired a volley from outside the penalty area. The most attractive aspect of Chelsea's game was the pace and precision in the way they were passing the ball. The main demand for Sarri-Ball is quick passing, which was truly observed in the way Chelsea were going with passing.
3. Second-Half Woes Continue For Chelsea
It was rather observed that the Blues had a tendency of dropping their intensity in the second half. Sarri's men were leading 4-1 in their previous game. After the second half kicked off, they conceded two goals in quick succession. That is, as they failed to score any in response in the second half.
❌ Tottenham lost to Man City
❌ Arsenal lost to Palace
❌ Man Utd lost to Everton
? Chelsea drew to Burnley

The race for the Champions League is stalling. #FantasyLeague #FPL #CHEBUR pic.twitter.com/LroDBJ2C0S

— Fantasy League (@FantasyLeague) April 22, 2019
Chelsea's 2-0 defeats to Liverpool and Everton in the Premier League over the last few weeks had all of the goals conceded in the second half. Addressing this issue after Chelsea's win over Slavia Prague in the Europa League, Sarri said: "We are very good in the first half, I think. Really, did well. As usual in the last two months, we started very badly in the second half. We need a solution. Need to solve this problem. In the last 10 matches, we started like in this match [in the second half]. It is a big problem. We have to concede it is a match for qualification. not for three points. But probably at the end of the first half, we thought we were qualified."
"Against these opponents, it is not true. They have physical numbers. I have never seen something like that [Slavia's fitness] in the last 20 years. So, the second half clearly could be difficult for us. We did something wrong. In the first 10 or 15 minutes of that half, they scored from 18 metres without being opposed, twice. It is very difficult to understand why. I can try without going into the dressing room at half-time. I can try if that'll solve the problem."
Chelsea will now be back in action on Sunday. That is when they play Manchester United at Old Trafford. The race for the 'top four' finish intensifies now. Both teams will want to take back all three points from the match. It will be interesting to see which side comes out on top.