Manchester United have been blessed with many good players in the squad, but few could emulate what Master Wayne Rooney has done with his selfless attitude. The word 'selfless' has his meaning of concerning about others instead of own self. Selfless is predefined and has an inner meaning, to say the least. On another hand, 'Selfless' is similar to 'Alluristic', i.e., disregarding your advantages and welfare over those of others.

So, what's make Wayne Mark Rooney so unique? His never give up attitude, always thinking about the team first and selflessness, the longevity, Dedication, endurance has been a key figure throughout the great man Wayne Mark Rooney's career.

Wayne Mark Rooney began his footballing career for Liverpool schoolboys where he scored 72 goals. After impressing the Evertonian scout, little Wayne joined Everton at age 9 to pursue his football career further into a new height. He was also a mascot in Merseyside Derby at age 11, not only that, he had 114 goals in his name in 29 Matches for Everton U10 and U11. He scored around 8 goals for Everton in Toffees run to FA Cup youth final. His performances were so fruitful in youth level that he got a call in Everton senior team.
Wayne Rooney began his senior debut career at age 17 in a 2-2 home match draw against Tottenham Hotspurs. He didn't take much time to make his mark as he assisted Everton's first goal to Mark. His first senior game debut came into account when he scored twice against Wrexham in the second round of the League Cup Match. Does anybody remember Rooney's thunder strike against Arsenal from outside the box? That goal ended Everton's 30 games unbeaten run when Rooney scored from a thunderous strike in the last minute to earn a victory for Everton FC. In December 2002 Rooney was awarded BBC Young sports personality for his impressive performances at such young age.

After an impressive Euro performance in 2004 against France and Portugal, he caught the eyes of Manchester United manager Sir Alex Ferguson. Before that Newcastle made a bid of 20 million to Everton FC but Everton immediately rejected the bid and Manchester United brought him for 25.6 m which was highest transfer money for an 18-year-old guy. On his arrival to Old Trafford, he was given the number 8 jersey and he made his debut on September against Fenerbache where he scored a hat-trick. That goal against Fenerbache made him the youngest ever hat-trick scorer in UEFA Champions League. In that very season, he was United's top goalscorer with 11 goals and was awarded PFA Young player of the year award.

Wayne Mark Rooney's first trophy came in the form of League cup in 2005/06 season when he scored twice in the final game against Wigan Athletic which earned him the man of the match award. In the season 2006/07, Rooney scored his first Premier League hat-trick against Blackburn rovers after going goalless for 10 games. In the same season, Rooney also scored twice in the 8-3 demolition of AS Roma in UEFA Champions League. Not only that, his partnership with Cristiano Ronaldo was key figure where he sacrificed his position for the sake of the team by creating chances and space for the forward players. He soon became a pivotal and key figure at Manchester United. He selflessly created chances for his teammates throughout his career.

Wayne Rooney throughout his career was known for his selfless playing character. He is also England's highest ever top scorer with 49 goals and in spite of that Wayne Quoted "I can never be an all-time great like Bobby Charlton unless we win the World Cup". Rooney is essentially an uncomplicated and unappreciated guy for his hard work and who just loves to kick the ball. Throughout his career, he got criticized for several things like drunken driving, failure to perform in World Cup(s) in 2010 and 2014 but that didn't hamper him. He always loved to reply to the criticism in his style.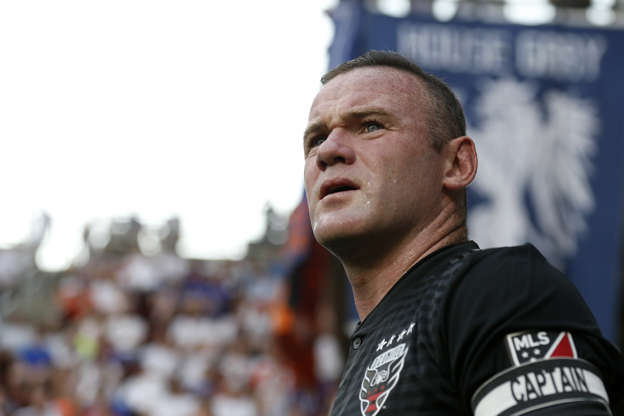 Rooney is still good for a longer, even if he doesn't perform assist or score he is still a good enough guy to handle from deep and operating chances to his teammates with his sublime long passing and link-up play. He is one hell of a lethal and dangerous player outside the opponent penalty box. He loves to score screamers throughout his career. In 2007/08 season Wayne Rooney went on to win his first Champions League medal. In total, he has won 5 Premier League title and 1 Champions League and 1 FIFA Club World Cup.

Does anybody remember his derby goal against Manchester City? That was the best of a lot in the red shirt for Wayne Mark Rooney. Scoring a bicycle kick in Manchester derby. "Wayne Rooney what a player, what a place, what a time, How about sensational how about superb, Wayne Mark Rooney at the right place in right time". Wayne Rooney straight away comes into any England Hall of Fame.

His selflessness and legacy cannot be forgotten.

In the world of Cristiano Ronaldo and Lionel Andreas Messi be someone's, Wayne Mark Rooney.