The Kangana-Rohit Sharma Story- As farmer protests and tweets about them reel the country, celebrities – Indian and international – have gotten involved. It was after pop star Rihanna and environmentalist Greta Thunberg Tweeted that an entire debate stood tall, Bollywood actor Kangana Ranaut vouching for the non-involvement of international faces in the country's 'matters'.
The Story Of Rohit Sharma And Kangana Ranaut That Went Viral
However, Kangana went on a step further when she trolled India's limited-overs vice-captain, Rohit Sharma. The opener had Tweeted about the protest where he didn't clearly vouch for either side.
Kangana Ranaut passes unacceptable comments on Indian cricketers. Kangana posted the Tweet in response to a message posted by India's limited-overs vice-captain Rohit Sharma. He asked people to find a solution together.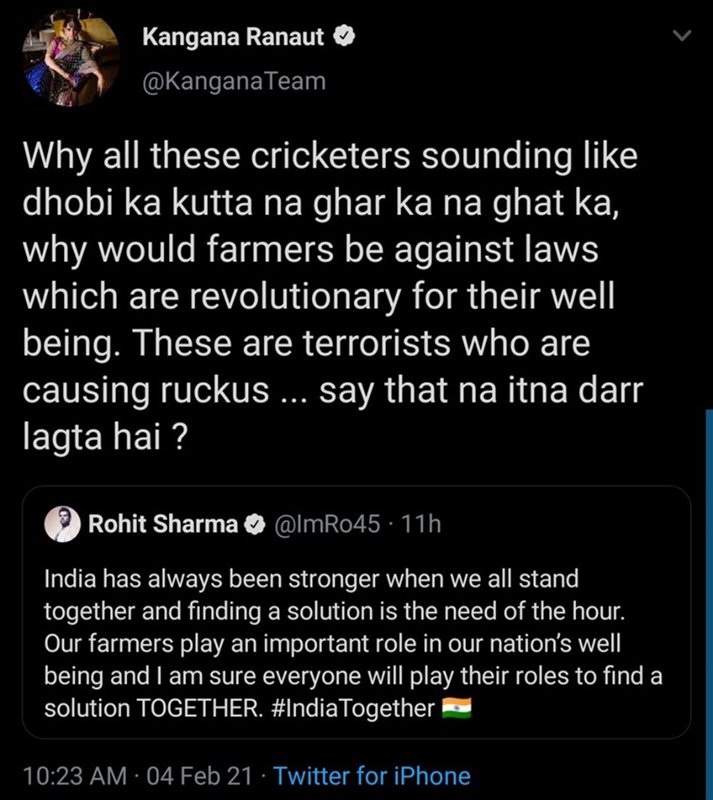 Rohit had written, "India has always been stronger when we all stand together and finding a solution is the need of the hour. Our farmers play an important role in our nation's well being and I am sure everyone will play their roles to find a solution TOGETHER. #IndiaTogether."
However, Ranaut called him out saying that the cricketers are not able to take sides.
The 33-year-old actor replied, "Why all these cricketers sounding like dhobi ka kutta na ghar ka na ghat ka (neither here, nor there)? Why would farmers be against laws which are revolutionary for their well-being. These are terrorists who are causing ruckus. Say that na…itna darr lagta hai?"
It also took down other tweets where the actor had talked about 'eradication of cancer' from the country, with reference to the farmers' protest.
What Happened On Twitter Post This Reaction?
Twitter took the Tweet down along with the other derogatory statements Kangana Ranaut had made."We have taken action on Tweets that were in violation of the Twitter rules. This is in line with our range of enforcement options," the microblogging website said in a statement.
However, Rohit's Tweet too was taken into the judgement stand by his fans. One of them even saying he no longer a 'Hitman fan'.
"That is it. That seals the deal. I am no longer a Hitman fan. I have been his ardent follower for a long time. Now, I will no longer watch him on TV. I am now supporting Rihanna Singh, Mia Kaur & Greta Dosanjh who actually is the epitome of humanity towards their own countrymen."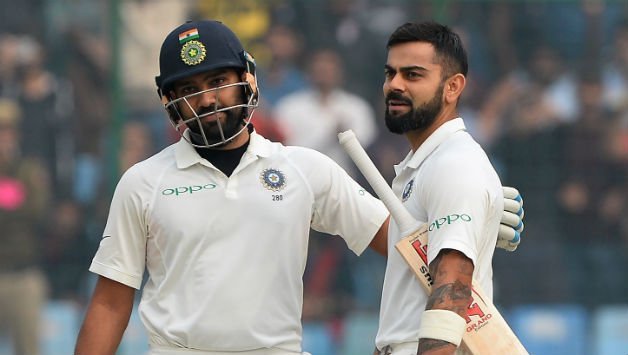 One user said that Rohit Sharma and Virat Kohli tweeted late at night to avoid any controversy.
"Virat & Rohit are actually smart.
Tweeted late night to avoid unnecessary controversy  ??"
Earlier, Indian skipper Virat Kohli had also Tweeted on the same lines. He was just asking the citizens to stay united.
"Let us all stay united in this hour of disagreements. Farmers are an integral part of our country and I am sure an amicable solution will be found between all parties to bring about peace and move forward together. #IndiaTogether."