Latest Chelsea News: According to many rumors, Bayern Munich are considering making Romelu Lukaku their next forward acquisition if Robert Lewandowski leaves the club.
After making a club-record transfer from Inter Milan to Chelsea in the summer of 2021, Lukaku was welcomed back to Stamford Bridge with very high expectations for his performance. The Belgian striker had a difficult season overall. He scored only 15 goals in 44 games played.
The most notable thing that Lukaku did for Chelsea this season was give an interview to Sky Italy. He said that he was dissatisfied with the amount of playing time he was not getting in west London.
According to Mundo Deportivo, the Bundesliga champions, Bayern Munich, have indicated interest in acquiring the center-forward. This is particularly if they lose Lewandowski this summer. 
The source indicates that the forward, who is 29 years old, is on Bayern Munich's transfer shortlist with Sadio Mane, who is a forward for Liverpool. Fabrizio Romano adds that Sadio Mane has opted to leave Anfield this summer. He has only one year remaining on his contract with the club.
In spite of the fact that Bayern are heavy favorites to acquire the Senegalese striker, the German giants will almost certainly be on the lookout for a world-class center forward in the coming months. This is because Robert Lewandowski has admitted that he wants to leave the Allianz Arena.
Latest Chelsea News: Bayern Munich is interested in signing a striker from Chelsea to succeed the legendary Robert Lewandowski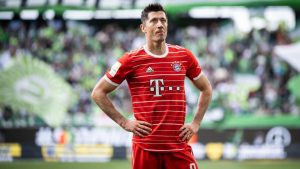 Since joining Bayern Munich in 2013, the famous Poland international has established himself as one of the top players in global football. He has won every Bundesliga championship he was eligible for and also the Champions League in 2020.
However, Lewandowski had a controversial press conference in which he said (as reported by The Metro):
"I want to make it clear right off the bat that I do not want to continue discussing the current predicament, which is the one involving the club. My time at Bayern Munich has come to an end. It is now the only thing that can be said with absolute certainty about the situation. Based on what we have seen over the last several weeks, I do not believe there is any chance that I will be able to continue my career with this club. Since Bayern is a serious club, I expect that they won't just retain me because they can.
At this point, I don't feel like going any farther with this conversation. I'd want to direct your attention to the national team and the next games. Maybe after the national team camp, we'll have more opportunities to discuss the matter in more detail. In the meantime, I'd like you to pay attention to those things. But for the time being, I'd want to conclude with this."
Now, we have to wait and see what unfolds in the summer transfer window. Whether Robert Lewandowski will leave is certainly a matter of question.