One of the iconic captains of world cricket Mahendra Singh Dhoni, who made people fall in love with him with his captaincy and calm behaviour is on break from cricket after World Cup 2019. Another thing people love about MS Dhoni is his unique hairstyles.
We are taking a look at his evolution of hairstyles which many youngsters copy-
Burst on International Scene
When an unknown young and strong player burst onto the international stage in 2004-05, people started noticing his long sixes as well as his hairstyle. He had long hair coloured with a golden-brown shade. In 2005, all cricketers from India had clean shaved traditional looks. However, Dhoni had looked different with his long coloured hair.
People went crazy on his strokes and his hairstyle at that time. Youngsters got a hero at that time and they copied Dhoni more than any celebrity.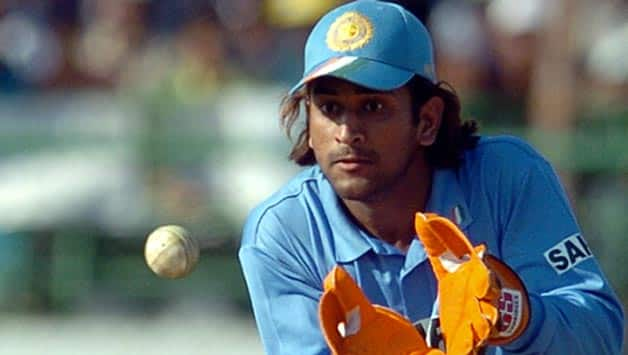 As a Champion of 2007 World T20
When the legendary trio of Indian cricket Sachin Tendulkar, Rahul Dravid and Sourav Ganguly had withdrawn their name from the 2007 WT20, selectors handed the captaincy to Dhoni.
Dhoni and company put in an unbelievable performance to win the first World T20 trophy. They made the entire nation proud. Dhoni had long hair till that stretched up to shoulders then. His straightened hairs looked black in colour in the tournament.
He had captained team India in all formats in 2009. Dhoni first time said goodbye to his long hair to get a crew-cut in 2009. This short and simple hairstyle was completely opposite of his looks during the start of his international career.
As a World Champion Bald Look 2011
When Dhoni lifted World Cup in 2011, all Indian cricket fans went crazy. At the same time Dhoni had donned his near-bald look when he posed with the trophy in front of the Gateway of India. It was a bold step for Dhoni because the bald look was not favourite among the masses of India before.
In 2013 Champions League T20-  The Mohawk 
Dhoni was the main figure of Indian cricket in 2013. In the Champions League T20, he shocked the fans with his Mohawk look in a match at Ranchi. This look was pretty unorthodox for any Indian player before. He looked completely distinguished from the rest of the team. 
The stature of Dhoni had grown into cult after winning Champions trophy 2013. He kept a military-cut with short hair from the sides and a bit longer on top.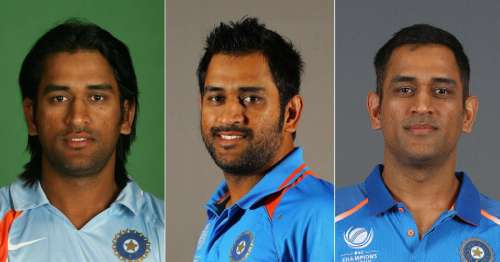 Before touring to Australia for test series, Mahi sported a cool looking Jarhead look. His hair was high and tight, which zeroed on the sides.
After retirement from Test Cricket, Dhoni still had a major share on the landscape in Indian cricket. His biopic "M.S. Dhoni: The Untold Story" hit theatres in 2016. On the promotion of the film, he sported trimmed mid-length hair.
In 2017 –A clean gelled hairs
In 2017 after giving up the captaincy, Dhoni had remained a vital part team India. He sported a gelled hair look in any promotional event.
Mahi opted for another funky style named as "V Hawk" look in 2018. This was another styling change that his fans saw.
In 2019 –  Salt and Pepper look 
The former skipper is donning a salt and pepper look nowadays. However, it is only a matter of time that he will experiment with his hair to get a new hairstyle in the recent future.