After a disappointing defeat in the first test match against England, Team India made a commendable comeback on the first day of the second test match. The ongoing series between India and England has been played in good spirits with not a lot of sledging or sour moments to dampen the quality of cricket. However, there was one such moment on day 1 of the second Test as Indian wicket-keeper Rishabh Pant was engaged in a verbal duel with wicket-keeper Ben Foakes and all-rounder Ben Stokes towards the end of the day's play.
What Was The Fight With Rishabh Pant All About?
The early dismissal of young opener Shubhman Gill came as quite a shocker but his partner Rohit Sharma handled the situation pretty well. Shubhman Gill is one of the most dependable players in the Indian test squad currently. He got dismissed for a duck, meant bad signs for the Indian fans. However, Hitman Rohit Sharma got his much-awaited form back and played a brilliant knock of 161 off 231.
Amidst the day of joy for the Men In Blue, there was a rather unpleasant moment. It came in the last two overs of the first day. Wicket-keeper batsman Rishabh Pant has made it a habit of getting involved in controversies for a long time now. In the first test match, there was not a single day when the youngster did not make it to the headlines for his bloopers, crazy chirps from behind the wickets and his fights with the England players. Today was one no different.
Rishabh Pant vs Stokes fight today ???? pic.twitter.com/P8a0mbO5d1

— middle stump (@middlestump4) February 13, 2021
Rishabh Pant had come to bat following a scintillating partnership between Rohit Sharma and Ajinkya Rahane. The partnership rescued India from a mildly precarious position. That was where they lost three wickets before lunch. Rohit got to 161 and seemed to be batting on a different pitch altogether as he seemed undaunted by the amount of turn and purchase that the English spinners got on day 1 itself.
बेन फोअक्स ??????? , बेटा, उसका नाम ऋषभ पंत @RishabhPant17 है । उस से पंगे ना लीयो । वो विकेट के ऊपर ही नहीं, विकेट पे पीछे से तुम्हारी गौरी गौरी ? मार मार के ♨️ लाल कर देगा । #INDvENG #ENGvIND #RishabhPant pic.twitter.com/ArLXxg3EtJ

— Sachin Budania (@SachinBudania11) February 13, 2021
How Team India Managed To Fight Back And The Twitter Trends
With just two overs left to go for the day to come to an end, English captain Joe Root was bowling. He was trying to squeeze in a quick over in order to get enough time to bowl the next over. Wicket-keeper Ben Foakes kept chatting from behind the stumps. Pant seemed bothered by the talk. That is as he withdrew just as the bowler was coming into bowl.
It was Root bowling in the penultimate over of the game. Pant took his sweet time and this made the English players angry. After a point of resisting, they just could not anymore.
This led to frustration among the Englishmen as Ben Stokes took the issue up with the umpire. He was supposedly alleging that Pant was trying to waste time. This was in order to end the day with Root's over. It led to words being exchanged between all parties. In the end, it was all good though as Root got in his over in. Further, Olly Stone had enough time to complete the next.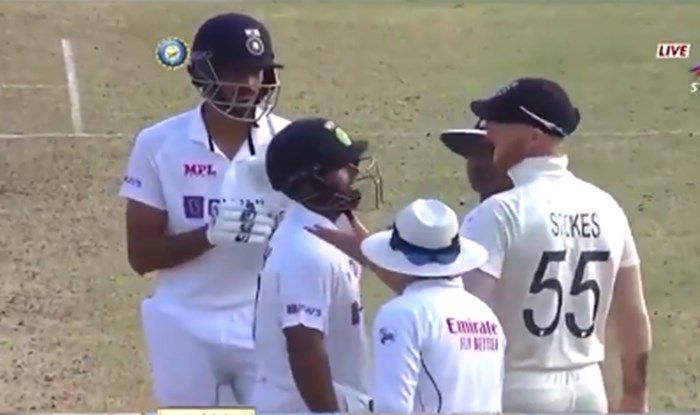 Hashtag #RishabhPant has been trending all-over Twitter throughout the day. Neither Foakes nor Stokes nor Rishab Pant has made any statement regarding this incident at the press conference.
Tomorrow will be an important day for the Indian batsmen. Rishabh Pant is currently batting on 33*. He is playing along with all-rounder Axar Patel. The Men In Blue will look to set a first innings score of no less than 500. That is to give an exact response to England's score in the previous match.