Cricket always tends to find new ways to amaze the fans. Whether it is certain incidents that happen on the pitch or at times off of it, the fans just love these trends. Something unique and different that grabs their attention. As long as no one gets hurt and there is fun involved, along with the game of cricket, anything goes. One such incident took place in the game between the West Indies and Sri Lanka.
The Windies were dominating the visitors right through. That was once again the case this time. Yet another win for the home side, as they won the ODI series 3-0. Despite that, there was some entertainment for the fans it can be said, which was not involving actual cricket.
The Video That Went Viral Of The Attack Of The Bees In The Game Between West Indies And Sri Lanka
What might seem like a serious threat, was indeed one. The players had to get down on the ground and avoid it. It wasn't anything like what some of the fans might have initially thought it to be. However, it was just bees or maybe not!?
Bee ? attack in #WIvSri#INDvENGt20 #Cricket pic.twitter.com/KgA5as5myR

— Cricket Scorecards (@MittiDaPutla) March 14, 2021
It is always good to leave nature undisturbed and this gesture of a few seconds just did that. The swarm of bees just passed by and the players stayed down till then. It seemed like a gesture of respect too and this was good to see.
Some of the fans would have found it funny. Even the players had smiles on their faces. However, it was surely something that was much needed and great to see that. Despite that, the bees were also not able to save the Sri Lankans from another defeat. No clue what is going on there!!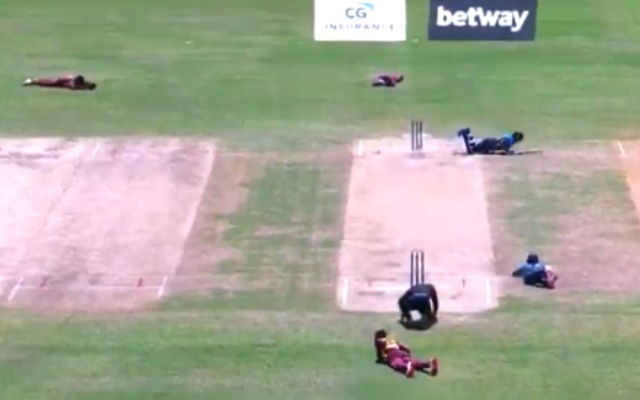 What Next For Team Sri Lanka Who Never Looked In The Series At All
The Sri Lankans have been so poor on this tour. They are yet to win a game and it is shocking how bad they have been. Luck has also not been on their side a bit. Despite that, there is no excuse for the cricket that they have been playing. Cricket Sri Lanka really needs to look into this if they hope to compete for any titles any time soon.
The T20 World Cup is coming up at the end of this year and there will be a 50-over tournament in 2023. That is to be held in India as well. It is crucial that Sri Lanka develops their team before that happens if they want to compete at the top level. The way they are playing, Sri Lanka might lose their international cricket status in the upcoming decades if they are not careful.
On the other hand, the West Indies will be happy with their performances so far. The only concern would be that it is at home and they would want to do it on their travels more often. They have a young team that beat Bangladesh prior to this as well. However, they will be focused on making a name for themselves in the upcoming T20 World Cup for sure.