On 14th March 2021, Arsenal announced their line ups for North London Derby. Only a few first-team starters were missing from the squad. Despite that, our entire attacking line up was made up of three young midfielders with an average age of around 20 years. To field such a young, inexperienced line up against a Mourinho squad (who just doesn't lose to Arsenal) would have been thought of as a Hara-Kiri anytime last decade!! Not anymore!!
The Phase Of Arsenal Under Arsene Wenger And How That Planned Out
After the late 2000s, where the Arsenal Academy dazzled their senior squad with gifts like Cesc Fabregas, Jack Wilshere, Szczesny and Gibbs, there was an unexpected lull in the academy. That too, as fans kept waiting for the next young superstar. The likes of Gnabry and Bellerin were perhaps the closest names. Despite that, while Gnabry got away, Bellerin never settled to give one amazing season now. He was always on and off and the fans lost their cool with him eventually.
Arsenal fans waited a long time for players like Chuba Apkom to explode. With all the patience and wait, it never happened. Suddenly, Arsenal of the 2010s was all about signings- young or experienced. Only a few which really warmed the hearts of Arsenal fans. Fast forward to the season of 2020, the scenario has changed drastically in a couple of years strangely after Wenger's exit.
While two years back, all eyes were on Reiss Nelson to buck the trend, Bukayo Saka really made last season his own. His childish demeanour notwithstanding, Saka has shown tremendous maturity in playing across the pitch. He has been so versatile and has taken up all the right slots in multiple positions.
Since his debut in the first team, he has been making each position his own. The now-England international has been outshining his much more senior and overpaid superstars day in day out !!
How Mikel Arteta Picked Some Players Who Transitioned Under Unai Emery?
While Saka shuffled from left to the right, things completely changed. At one point, he seemed to be exhausted. There was tremendous pressure of being the sole creative outlet for this squad. However, the addition of Emile Smith Rowe actually changed Arsenal's fortunes.
While Arteta shuffled between a 3-4-3 and 4-2-3-1 earlier in the season, he wanted a number 10. who could partner the main striker in pressing the opposition as much as in creating chances, Willock, Lacazette & Saka were the ones trialled but without much success as only Saka came close to creating chances from that position.
The addition of Emile Smith Rowe with the assurance of Partey backing from central midfield has changed the dynamics for Arsenal. ESR (also known as  Croydon De Bryune by his teammates) brings across immense energy while being a simplistic progressive passer with shades of Ozil in him. A year older than Saka but having missed his chance in the Arteta revolution due to injuries/ loan, ESR has now staked his claim with one more stupendous performance in NLD.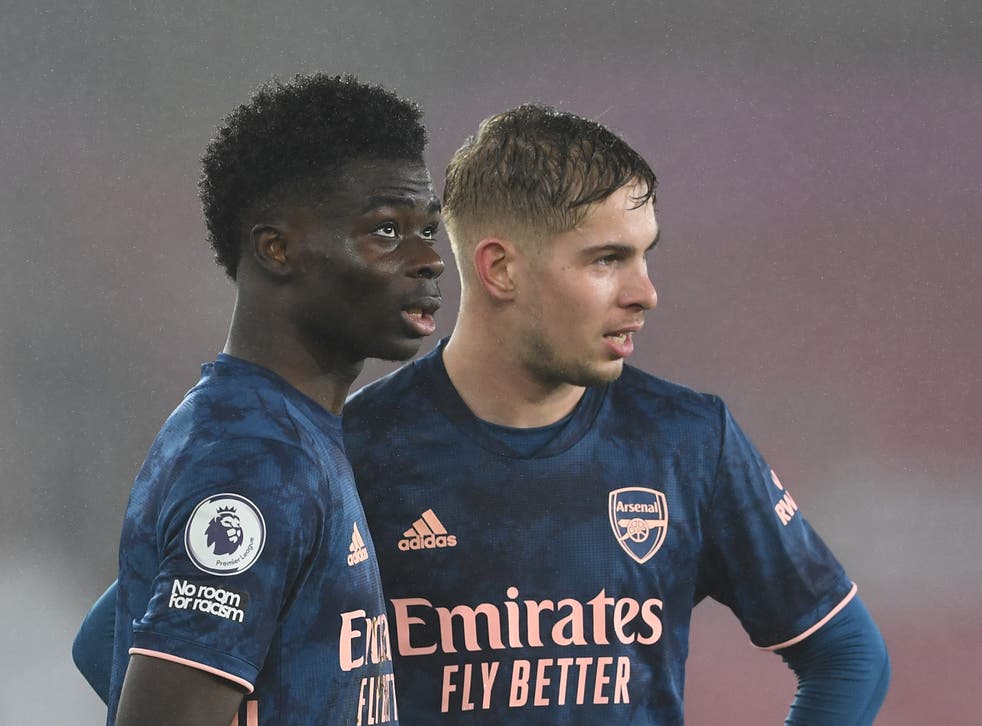 With a surprise experiment where both of these young players triumphed an unimaginable victory against a strong Chelsea squad, Arsenal has made a strong change to their PL fortunes with eight of their twelve victories coming in this period since 26th December.
The transitions have suddenly become faster and smoother. The movements more unpredictable from the forward players. With Emile Smith Rowe, Partey and Tierney playing together, we have been able to exploit these situations to create more chances. There have been more bigger chances created, xG and goals as well resulting in all-round attacking improvement.
This coupled with inconsistent but resolute defensive performances does give a glimmer of hope to the Gooners. That is given they have the best fixtures from GW 31-38. In addition to this, Arsenal had a silent winter window where the focus was on selling or clearing out the deadwood. The likes of Mustafi, Sokratis and Ozil were all shipped off the wage bill while Kolasinac found a loan despite the lack of backup to a stupendous but often injured, Tierney. But Arsenal and Edu did close with a gem of a loan signing- Odegaard.
Once Odegaard was sought after by Arsene Wenger only to lose out to the riches and fame of mighty Madrid but Odegaard has had a long journey across clubs and countries since that huge publicised signing. Only last year did Odegaard finally leave an impression he was ready for the big stage, something which led Zidane to start him earlier in the season but once again, he got lost in the dazzling Madrid squad and Arsenal struck Gold.
Within two months, Odegaard has been involved in 12 matches for Arsenal and has started five of the last six matches. While some pundits have complained about the impact of such a signing on ESR, especially considering ESR has been shifted to the left to accommodate Odegaard but on the pitch, it has not come across like that. A small ESR injury meant, Odegaard initially received the minutes he wanted and now with both starting together, their talents have only multiplied the threat Arsenal carries upfront.
On the left, ESR combined deliciously with Tierney to give headaches to an ex- Gooner, Doherty. Odegaard constantly combined on the right with Saka. Pepe moving around, pressing judiciously and more importantly keeping the ball ticking. His two goals in two matches have been a welcome relief, as well as Arsenal look for more goals from their midfield. Odegaard has repeatedly stated how settled he feels in this team. Arteta has been entertaining questions on his future to a certain extent. The Spaniard has been giving us hints about plans to look at Odegaard as long term option.
@cchappas lovely analysis there.
Home and away matches lost a lot of its significance especially without crowd support. To add to the fact, not at all teams play better at home. @Everton has been a shining example along with @OfficialBHAFC recently, excelling in Away PL matches. https://t.co/PG8HZPyjsJ

— Understanding Football (@UnderstandingF8) March 25, 2021
To add to all this, we still haven't talked about a generational talent. Gabriel Martinelli, who is looking at a comeback post a long injury and seems to be slowly reintegrated back. We have Eddie Nketiah who initially struggled in a squad not creating opportunities. However, looking at the current look of the squad, one cannot help given his positional skills and good finishing if he will find his way back in coming games as well.
What About The Future Of These Young Stars At Arsenal?
Arteta has spoken about both the players in glowing terms. With the likes of Ainsley Maitland-Niles, Willock, Mavropanos, Saliba and Guendo on loan, some of these youth however might not find their way back in. Even now, Arsenal fans are awaiting the next batch with the likes of Balougan, Miguel Azeez, Ben Cottrell and John Jules. These players are already making waves in the youth setup. One would hope only a little time before they make the big jump.
Over the years, Arsenal youth have always amazed the fans when it was least expected. Though there always be an uncanny hope, the Gooners will want to see more. Everyone wants the old glorious days to return. However, the main question does always remain, HOW!?
One cannot wait but wonder what if this is the future for Arsenal- " The Bright Future".
(Author Name- Sankalp Nanda)