Have a look at the below-given picture nicely. You must be very familiar with two of the award winners – the third and the second place holders. The one who has won the silver medal is famous Indian sprinter Makhan Singh, an athletic legend of the 50s and the guy who has won the third prize is our very own 'Flying Sikh' Milkha Singh, who passed away last month due to post-covid complications. The question arises: who is the man standing at the centre of the podium with the gold medal then?
It is O K Antony, an athletic talent of India gone to waste. In his prime, Antony was claimed to be a better sprinter than Milkha Singh; the flying Sikh himself believed that too. Coincidentally, he died around the same (date), just back in 2018.
The difference? While the death of Milkha Singh Ji was mourned over by the entire nation, Mr O K Antony died in near anonymity, with only a few local dailies covering his death. Maybe this was what he wanted. To stay away from the spotlight and live a peaceful life. But one thing that we can agree on is that Mr Antony did not get the credit that he deserved.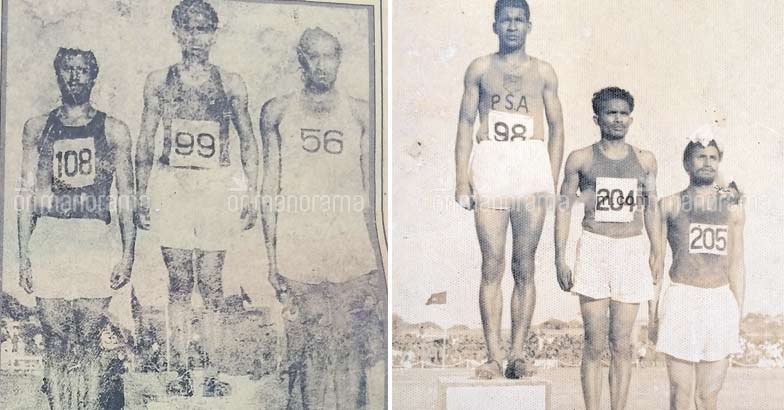 O K Antony retired as an honorary captain of the Indian Army. He had joined the Indian Army after training in the boys' regiment and was a jawan with Army Ordnance Corps unlike Milkha Singh, an officer with the Corps of Electronics and Mechanical Engineers (EME). The two athletes used to race against each other during Army Station meets. The above-given picture was taken at the Army Station meet of 1952-56.
O K Antony excelled in 100m, 200m and 400m hurdles events and Milkha Singh, in the three years they competed against each other, could never defeat Antony, which shows how good he really was.
What Mr Antony Once Quoted During His Prime About His Rival And Compatriot
Milkha Singh Ji always respected O K Antony for the brilliant athlete that he was. "Milkha says that I run like a rabbit."
Unfortunately, O K Anthony's career in athletics was short-lived due to a chronic respiratory condition which meant that he could never run like he used to do before. It was heartbreaking for Mr Antony as he saw his dream of winning a national medal came crashing down. Whereas Milkha Singh kept improving his timings, O K Antony's sprinting career came to a halt even before it could take off.
As he never won an International or even a national medal, Mr O K Antony could not become a household name in India like Milkha Singh or Makhan Singh. But it is an undeniable truth that he used to smoke these legends in his prime.
O K Antony spent the rest of his life (after retirement) at his hometown Bethanygram. He was with his wife and deliberately kept himself away from all the spotlight.
Back in 2018, Antony had complained of dizziness. Within minutes, he breathed his last. He died at an age of 89. RIP!!