The Virender Sehwag Story- India started their tour of Sri Lanka with a dominating win at the Premadasa Stadium in Colombo. Shikhar Dhawan's men were termed as a 'B' string team by Sri Lanka cricket legend Arjuna Ranatunga a few weeks back but there was no sign of second-string quality cricket yesterday as the Men in Blue defeated the home side by seven wickets.
Arjuna Ranatunga's Comments Get The Perfect Reply From Virender Sehwag
Sri Lanka chose to bat first after winning the toss. Despite a good start, their batting collapsed in the middle overs. However, a quality innings of 43 not out of 35 balls by Chamika Karunaratne in the end helped them post a fighting score of 262 at the end of 50 overs. Deepak Chahar, Kuldeep Yadav and Yuzvendra Chahal picked up two wickets each.
In reply, India started strong. Opener Prithwi Shaw scored a blistering 43 off 24 balls to give India a flying start. After his departure, captain Shikhar Dhawan and debutant Ishan Kishan made half-centuries to take the chase in total control. Dhawan remained 86 not out as India chased the total down in 36.4 overs with 80 balls left.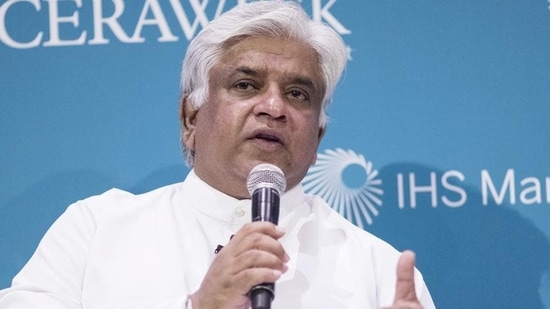 Sri Lanka's world cup winning captain Arjuna Ranatunga blasted Sri Lanka cricket board after agreeing to play limited over series against India, who will play the series without their many first-team players as they are in England to play the test series. Likes of Rohit Sharma, Jasprit Bumrah, Rishav Pant and of course Virat Kohli will miss this particular series.
Virender Sehwag strongly condemned Ranatunga's words saying that the depth in current Indian cricket can allow sending two quality teams in different series. The team which are playing Sri Lanka have so much quality that they can defeat the India squad which are in England. Sehwag also claimed that Mr Ranatunga's words were rude.
"Arjuna Ranatunga was a bit rude in saying what he did. He might think this is a 'B' team. The strength of Indian cricket is such that you can send any team. It will not be a 'B' team. This is perhaps the benefit of the IPL. We have so much talent that we can not accumulate in a single team. This team is equally talented."
Sehwag insists that the Sri Lankan cricket board should be thankful that India agreed to play this series. If the Indian side had not agreed to play against Sri Lanka, then the SLC would have lost a lot of funds and sponsorships.
"What he is calling a 'B' team. Do not accept that. If these players play against the current players in England, they will defeat them in a few games too. I do not think this is a 'B' team. The Sri Lankan Board (SLB) should instead be thanking the Indian board. That is for even sending the team to place the series in the first place. The BCCI could have easily said, 'We are unavailable, let us have this tour sometime else'."
"They should be grateful for this team. The team that will financially help the board and its players. If the Indian team had not gone there, SLB would have lost funds and sponsorships for all six games."