The Virat Kohli Story- The Aussie leg-spinner went on to recall his memory of making a slight dig at Indian captain Virat Kohli on Twitter back in 2016. Zampa was a teammate of Virat for Royal Challengers Bangalore in the recently concluded Indian Premier League in UAE. RCB finished fourth in the tournament.
However, it was a tournament where Zampa had very few chances to contribute. The 28-year-old made only four appearances for RCB in this year's IPL. Zampa claims that the RCB and Indian cricket team captain follows and reads everything on Twitter. That was after his own mistake came back to cost him later.
What Zampa told the 'Sydney Morning Herald' About Virat Kohli?
In a recent interview, Zampa told Sydney Morning Herald, that he queried about two players in a tweet of Kane Richardson, saying he did not know them and those two players were Virat Kohli and AB De Villiers. Later that year, he faced Virat Kohli in a game where his last ball of the over got smacked for a boundary by Kohli, with the Indian captain telling him to keep a distance from Twitter.
"I replied in a typical manner back then. That was just taking the piss at them. 'Who are they, mate?' The Indian fans did not let me live it down. Virat had obviously seen it."
"I played my debut back in the day and bowled an over to him. The last ball of the over he smacked it for four, came down to me and said, 'Stay a long way away from Twitter, mate'. I was like, 'Geezers, this bloke reads everything on Twitter'. He went on to get 120 (108*) that day. I stoked the fire."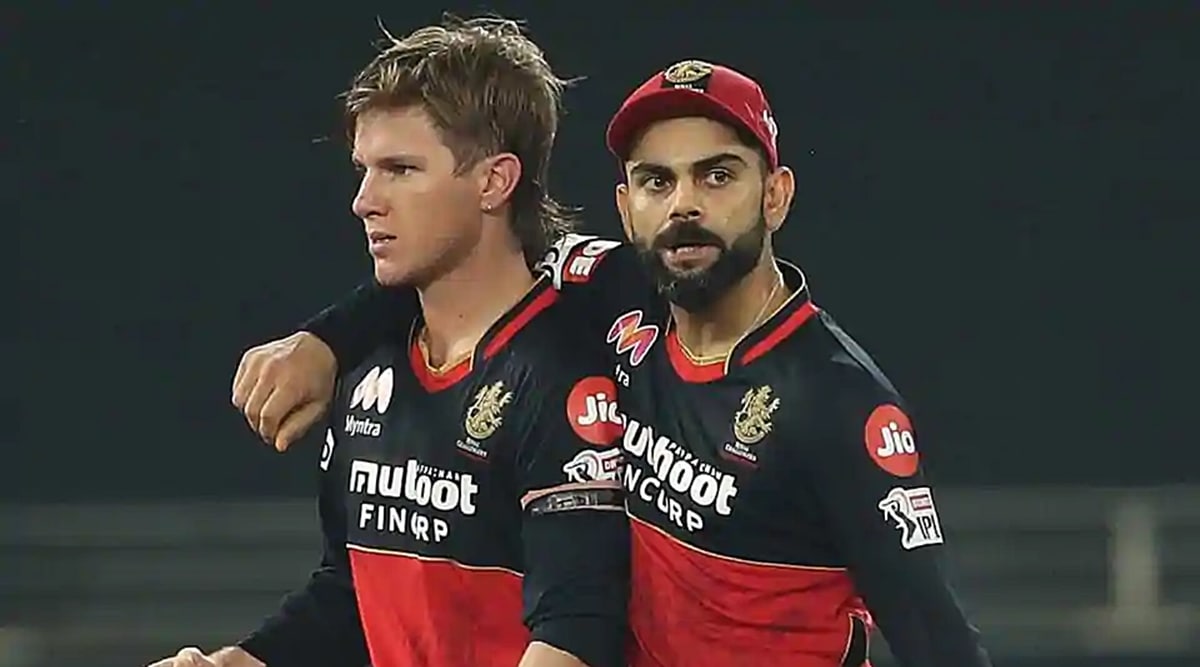 The Story Further Of The Exchanges Between The Two RCB Players
That was the end of that, as they were quite close during the IPL months. Adam Zampa expressed his gratitude towards Kohli for the nice gesture towards him where the RCB captain behaved like he was a friend and made it easier for him in the dressing room.
Zampa recalled an incident and said, "It was the first day I arrived and VK WhatsApped me 'Zamps, here is the USD 15 off voucher at a vegan restaurant from Deliveroo. It is a really good restaurant. I did not have his number. He made it as if we have known each other forever."
Zampa said Kohli also talked a lot about coffee, travelling and food. He went on to say that he also once asked the Australian, "Do you want a Beyond Meat burger?"
This was another good indication of the kind of player Virat Kohli is. He left a positive and lasting impression on Zampa.
What He Further Went On To Add About Virat Kohli?
The spinner went on to add that Kohli is a really cultured guy. He further went on to add that he is good to talk to. Good fun, he said and added that "The one thing you take away from spending time with those guys is they are as much of a human being as you are. One night he took me aside and talked to me about his travels through Nepal. He is always talking to me about his new coffee machine. He is a pretty normal bloke."
On the international stage, his battle with Kohli is quite interesting though. The fans really love every minute of it, when the two face off. Zampa said that he has gotten Virat Kohli out seven times.
However, they are at a good click, which was what he added. The economy is well and truly over six runs per over as well, so it is a balancing act. He further went on to conclude by saying that things will be interesting this time. Let's wait and watch what Virat Kohli and Adam Zampa do.