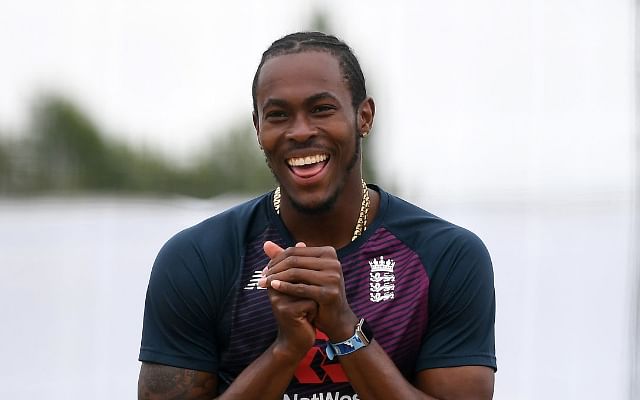 Jofra Archer has again come to headlines after a strong reply to one of his haters in Instagram. Jofra Archer has been bullied in the social media by many people and racial abuse against him is also not very much rare. The fast bowler of England has decided not to stay silent about these incidents. He has started to point out those persons who are bullying him in social media.
Jofra Archer wears a gold chain in his neck and one guy has personally messaged him in the Instagram account. According to that person, Jofra Archer should not wear a gold chain in the cricket field. The choice of words was also very much abusive. Jofra Archer has put the message in the Instagram story. He has asked his followers to block this person for this kind of behaviour.
The person apologised immediately after seeing the story of Jofra Archer. In the reply, he told me that he was drunk at night. He saw the collapse of the batting lineup of Australia. He was not able to control his rage and as a result of it, he sent this message to Jofra Archer. However, the fast bowler of England did not like the reply. Jofra Archer put up another story in Instagram with the caption, "If you are thinking that when you're drunk you were always thinking it."
Meanwhile, Jofra Archer is currently playing for England in the ODI series against Australia. England has won the T20 series against Australia by a margin of 2-1. Australia has started the ODI series with a win. Australia put up a total of 294 while batting first. Jofra Archer and Mark Wood have been two key bowlers of England. Both of them have taken 3 wickets each in the match. Adil Rashid has taken two wickets and one wicket has been picked up by Chris Woakes in this innings. Mitchell Marsh and Glenn Maxwell have scored 70+ runs for Australia.
Australian bowlers have been on fire from the beginning. Josh Hazlewood has been the pick of the bowler for Australia. He has taken 3 wickets and conceded only 26 runs in 10 overs. Adam Zampa has also picked up 4 wickets with conceding 55 runs. Pat Cummins and Mitchell Marsh have also taken one wicket each for Australia in this match. There has been a batting collapse for England at the beginning of the innings. Jason Roy, Joe Root, Eoin Morgan and Jos Buttler have gone back to the pavilion very early.
After that Jonny Bairstow and Billings have built up a partnership. Bairstow has scored 84 runs. However, Adam Zampa has broken the partnership. Billings has scored 118 runs. However, he has not got enough support from his teammates. Moeen Ali and Chris Woakes have not been at their best and as a result of it, England has fallen short of 15 runs at the end. England will be desperate to win the next match to level the series.