With the Indian Premier League is alive and kicking, Instagram is a platform where the majority of the players post about their social and professional life. The Australian all-rounder is currently playing in the Indian Premier League in the UAE for the Kings XI Punjab. Maxwell had a problem with his mental health last year when he took a break from all kind of cricket due to depression. After scoring 64 of 29 balls against Sri Lanka in a T20I in Adelaide Oval, he announced a sabbatical before he came back in this year's Big Bash League.
The 31-year old's fiancee Vini Raman, who is an Australian based Indian pharmacist, posted a picture with Glenn Maxwell in her Instagram account on 20th September. It was a personal post, where she expressed her feelings in her partner's absence in the lockdown saying if she could be there in the UAE with Maxwell. A guy with an Instagram handle guru_boy7 called Maxwell "a mentally troubled white guy" and told Vini to ditch him and go for an Indian guy instead.
After noticing this lame comment, Vini decided to put a reply to that saying she does not see the colour of people.
What Went Wrote On In Response
"So, I normally do not respond to comments like these as I know trolls do it just to get attention. Despite that, a six-month lockdown has left me with plenty of time to educate ignorant morons. Loving someone of different skin colour does not make you a sell-out. Loving a white person does not mean I am embarrassed to be an Indian. Loving a white person is my choice and I shouldn't have to worry about what others will think."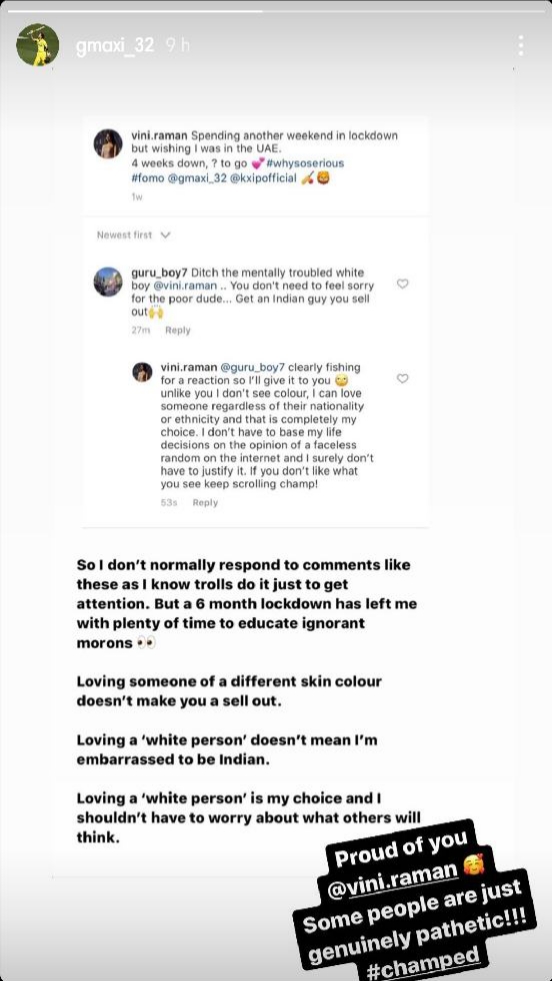 Glenn Maxwell posted the screenshot of it on his Instagram story. He was really unhappy with what was being said.
He wrote, "Proud of you. Some people are just genuinely pathetic!!!"
What KL Rahul said in a video on KXIP's official Instagram page-
However, this IPL season has not been the best so far for Maxwell. Kings XI Punjab has won one and lost twice in their three fixtures so far. Kings Xi captain, KL Rahul was more than happy to pick him in the auction.
"We were very clear that he (Glenn Maxwell) was somebody that we had to get in the auction and I am really looking forward to playing with him and having some great partnerships on the field and getting to know him."
What KL Rahul further went on to added-
"I have said this before in an interview as well, he is quite a tough opponent to have. He can be quite chatty and can be very competitive and you know. I have never enjoyed playing against him, but he is somebody that every captain would love to have on his team."
Pretty Zinta's side is yet to taste the success of lifting the IPL trophy in 12 seasons. If they want to get the hold of it this year, Glenn Maxwell has certainly got a big role to play.