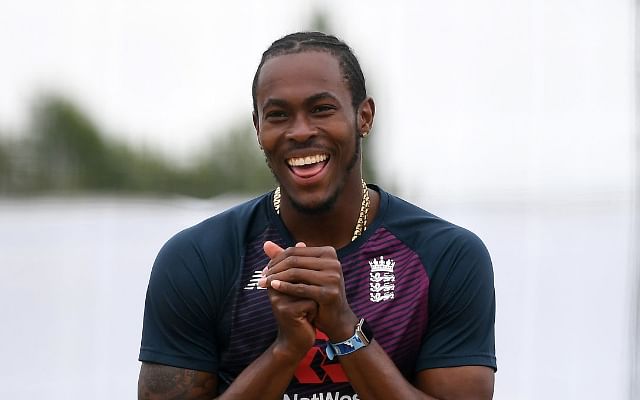 England's Jofra Archer made a comeback to competitive cricket on Thursday. Representing Sussex in the county championship, the Barbados born pacer picked two key Kent wickets to restrict Daniel Bell-Drummond and company to 145 runs in the first innings. Known for his raw pace and ability to scare the best batsmen with lethal bouncers, Jofra Archer had suffered an injury on his right hand and had to miss the IPL. The Rajasthan Royals bowler however made a stunning comeback, picking two wickets on Thursday.
He is one of the most feared pacers in the world of cricket at present. Played his part in the World Cup 2019 win for England at home. His contribution can never be ignored when it comes to the success of any of his teams.
The Story About Jofra Archer's Return To Competitive Cricket
First up, Archer sent Daniel Bell-Drummond back to the pavilion. The Kent skipper edged an outside off delivery to the second slip. However, the dismissal that made more noise was of Zak Crawley. Jofra Archer bowled a 'snorter' as Crawley edged it to the wicketkeeper.
Sussex shared a video of Archer's dismissal of Crawley on Twitter, and captioned it as, "That is a SNORTER!" Two wickets already for @JofraArcher!"
Jofra Archer is genuinely terrifying.@JofraArcher | @SussexCCC pic.twitter.com/toFMmb6PNG

— Cricket Mate. (@CricketMate_) May 13, 2021
Tell us you're Jofra Archer without telling us you're Jofra Archer. 🔥⚡#RoyalsFamily | 📸 – @SussexCCC | @JofraArcher pic.twitter.com/cpeVbgTH67

— Rajasthan Royals (@rajasthanroyals) May 14, 2021
An early breakthrough ⚡️

Right on the money, @JofraArcher! 🤑 pic.twitter.com/KjK9D9AGCJ

— Sussex Cricket (@SussexCCC) May 14, 2021
🔥 @JofraArcher with his first wicket back in the #LVCountyChamp!

How many more can he get? Find out here: https://t.co/Oo1QJGECdp pic.twitter.com/ANY2zfgn5n

— LV= Insurance County Championship (@CountyChamp) May 13, 2021
The English World Cup-winning pacer had suffered a cut to his hand while cleaning at his home in January. He played two Test matches and five T20Is vs India with an injured hand. However, he was sent back to the UK midway through England's tour after his injury worsened. his progress has been monitored by the medical team of Sussex since then.
What More Can We Expect From Jofra Archer Heading Into The Crucial Part Of The Year With Lots Of Competitive Cricket
With Archer's positive return, England will be hopeful of putting up a superficial show against Kane Williamson's New Zealand. That is in a two-match Test series this year and also versus India in a five-match bilateral series. These fixtures will not be easy and the teams will fight hard to make an impression.
It is going to be a few months of high intensity and the fans will be eagerly waiting for the cricket. The IPL 2021 was stopped due to the few cases that were detected and that was a matter of concern. Hopefully, the cricket resumes soon and things are better now.
The T20 World Cup – only months away – is scheduled to be held this year in India. Archer is expected to play a vital role in England's bowling department. He surely adds a new dimension to the English national side. The only major concern was his fitness and whether or not he could deliver in the days to come.