Former Bangladeshi captain and current wicketkeeper-batsman, Mushfiqur Rahim was involved in a heated situation during a match in the Bangabandhu T20 Cup when his team Beximco Dhaka went up against Fortune Barishal in the eliminator. Although Dhaka won the match by nine runs and stay in contention to make it to the final, Rahim actions against his teammate Nasum Ahmed caught the attention and grabbed the headlines for all the wrong reasons.
The Whole Incident Involving Mushfiqur Rahim And What The BCB Said?
The BCB on Tuesday issued a statement. In it, they said that Rahim was fined 25% of his match fees for breaching the BCB code of conduct. One demerit point was also added to Rahim's disciplinary record as he was found guilty of "showing insulting gesture towards a teammate," the release said. If Rahim accumulates four or more demerit points then it will result in suspension and he will be banned.
Coming to the match scenario, it was in the 13th over of the chase when a Barishal batter Afif Hossain starting striking well which resulted in Rahim losing his plot. There were several fielding errors as the Dhaka fielders gave away many runs cheaply.
When the southpaw dabbed the ball to vacant midwicket for a single, both Rahim and Nasum chased the ball and with Rahim reaching first, he threatened Nasum for the first time mainly because he couldn't reach earlier despite being closer to the ball.
The Video That Went Viral On Social Media
Not only once, Mushfiqur did it twice ??? pic.twitter.com/zpSriYRYhY

— cricket videos (@middlestump5) December 16, 2020
Dhaka started leaking more runs, as there were miss fields from Al Amin and Yasir Ali. The tension was mounting on the Dhaka captain. Then came the mistimed scoop which was should have been a regulation take for Rahim. This is where things got nasty.
Nasum Ahmed with whom he already had a bow was fielding at short fine leg. That is when the ball went up, Ahmed started running towards it and ended up slightly colliding with Rahim as he completed the catch cleanly. However, the Dhaka skipper yet again was threatening to throw a punch at Nasum.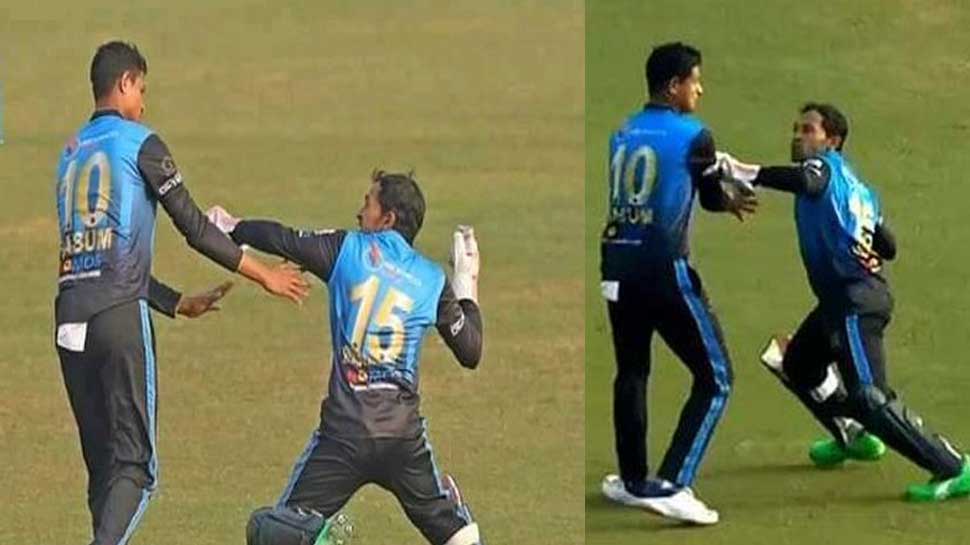 What Mushfiqur Rahim Said After The Game; His Apology
Rahim avoided an apology in the post-match presentation but the issue took a 360-degree turn as he came up with an apologetic post on his Facebook page on Tuesday morning.
"Assalamualaikum to all. First of all, officially I would like to apologize to all my fans and spectators. This is regarding the incident that happened yesterday during the match. I have already apologized after the game to my fellow team-mate Nasum. Secondly, I seek forgiveness from Almighty. I always remember I am a human being above all and the gesture that I have shown was not acceptable at all. Inshaa Allah in near future, I promise it won't be repeated on the ground or outside the ground….JazakAllah Khair."
Well, hopefully, all is forgotten and the duo can focus on the tournament. This was one anger-fit though the fans found it to be funny. Let's hope that it is not repeated now.