The most successful skipper of Team India and the Indian Premier League, MS Dhoni is all set to hang up his boots at the end of the campaign. Though Thala has not said it himself just yet, the signs are clear for his fans to notice. Yes, I am a Dhoni fan too but all's well that ends well and it seems that he is set to bid adieu to a star-studded career, one that most cricketers can only dream about.
As the season started off with a loss for the CSK side, MS Dhoni was on cloud 9, with his first fifty of the season. Not many would have thought that he still had it in him. However, it was time to show the world that MS Dhoni is still MS Dhoni!!
Here are three reasons why we feel that this could be the end of the road for MS Dhoni, as he plays his final IPL season-
Dropping out of the Dream XI ads' limelight and joining WinZO
Even when Dhoni was not playing international cricket, his endorsements didn't stop. He is still India's favourite and most-successful captain and his market value skyrocketed yet again when he won the IPL 2021 tournament. With that being said, Thala has now left the Dream XI franchise, to move on to WinZO, a gaming rival. This can mean only one thing, he is looking to secure his future beyond the IPL.
By joining and leading the WinZO team, he ensures that he has a long-term role in its growth (with one big final payout). This means that it is nearly that time when he bids farewell to his on-the-pitch role and does more as a mentor for both CSK and the gaming brand.
MS Dhoni relinquished the captaincy for Sir Jadeja
Leaving the captaincy for a younger leader, with the former skipper still being in the side, is MS Dhoni's way of teaching the next leader-to-be on the job. Though Ravindra Jadeja may not be as good as his mentor, he will surely have to step up in the seasons to come. The all-rounder still has time on his side and will want to make Dhoni proud.
Keeping that in mind, the team will want to recover from the loss against KKR on the opening day of IPL 2022. They can play much better cricket and all it takes is for them to play as a unit. This is something that MS Dhoni was best at and tried to teach the same thing to Virat Kohli too. He will hope that his successor can find this trait too.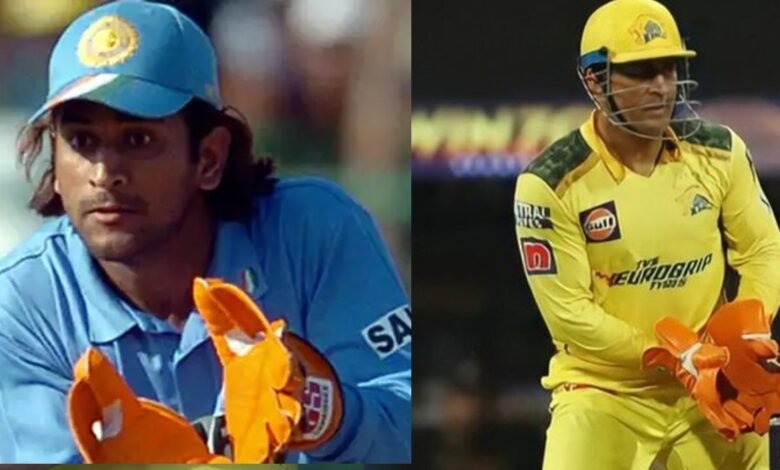 Using the ORANGE GLOVES that he used at the start of his career one last time
Remember the orange gloves that MS Dhoni flaunted when he made his debut for Team India? Well, those are back now and so is a bucket load of nostalgia for the fans. If any section of the fanbase did not remember, how Thala looked while wearing those gloves, there is no need to be worried.
His new look in yellow and orange says it all and he is ready to leave his mark once again. That is, with the colour of his gloves shining brightly as ever, just like his star in Indian cricket. MS Dhoni, take a bow!! We will surely miss you when you leave the cricketing field for good!!