Indian Super League is gaining momentum towards the second half of the season. The reverse fixtures resumed from today. Bengaluru FC travelled to Tilak Maidan for their match against NorthEast United. The last time the sides met ended in a draw with Luis Machado scoring a brace in the away game. Matchday 56 did not bring about any different result as NorthEast settled for a 1-1 draw against Chhetri's men.
Machado struck again leading before half-time only for their goalkeeper Gurmeet to make a mistake and concede. Rahul Bheke's left-footed strike fell short on the bounce and enforced an error to save Bengaluru FC.
Team selection for Bengaluru FC and NorthEast United
Both the managers made changes to the team sheet as there were some fresh faces from their last fixture. After losing to the third-placed Hyderabad FC, NEFC boss Gerard Nus brought in Gurmeet Singh, Dylan Fox, Rochharzela, and Lalengmawia. Sequentially, Subhasish Roy, Shareef, Sylla, and Fanai did not make it into the first-team. The 20-year-old, Lalengmawia, was the man of the match and hoped to fulfil Nus' expectations. However, replacing Subhasish with Gurmeet made an impact on the final score of the game.
Bengaluru FC saw Udanta Singh, Ajith Kumar, and Suresh Singh Wangjam limited to the substitutes after playing SC East Bengal in the last match. Pratik Chaudhari, Christian Opseth, and Harmanjot Khabra had high hopes to go into the match as the replacements. Khabra returned on serving one match-ban and Opseth took charge of the attacking alongside Sunil Chhetri and Cleiton Silva.
Bengaluru FC dominated the possession but unfruitful
Naushad Moosa's team maintained a 68% possession statistics on paper even though both the teams were level on their dismal run of form. BFC had been running a 4-match losing streak which shows their mediocre performances. Holding the ball to their side is only effective if there are a considerable number of attacks. They started the first quarter of the match steadily with Opseth trying hard to score connecting with two aerial balls. Left-back Parag Shivas showed the intent to pose a threat delivering balls into the box vibing Khabra.
NorthEast matched their opponents and prevented them to score in the first half of the match. Also, they took on Dimas Delgado's loss in ball control to lodge a counter-attack and draw the first blood between the mid-carders. Federico Gallego sprinted towards the goal and tried to shoot a long-ranger but the shot did not connect well. Instead, it fell for Luis Machado running into the box who placed it through Pratik Chaudhari and Gurpreet Singh Sandhu.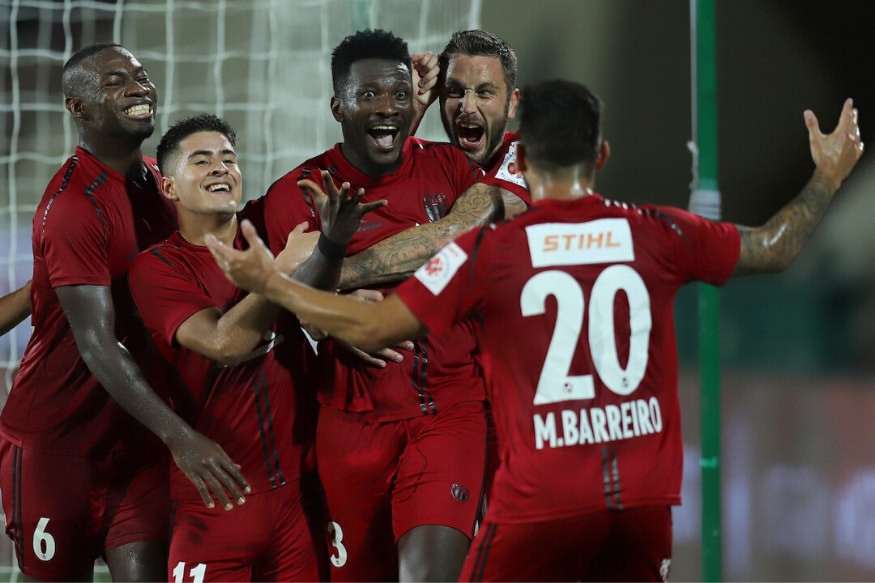 NorthEast United's defence remains a problem
NorthEast United could not hold on to their narrow lead succumbing to a draw and sharing points. Practically, Nus' players and tactics worked out well as they had ample chances to score. V.P. Suhair missed a golden opportunity to head a lofted ball home and help his side gain a 2-0 advantage. Also, Benjamin Lambot missed a tap-in from a set-piece freekick just before halftime.
The turning point in the match arrived when Rahul Bheke cut-in from the right flank and laid a shot on target which was completely misjudged by Gurmeet. The goalkeeper made good saves till then but one mistake cost NorthEast a comfortable three-point victory.
Suhair and Camara worked well in the attacking stance but the defensive phase is still a weak spot for NorthEast United. They need to pull up their socks as they face Jamshedpur FC away from home on Sunday. On the other hand, Naushad Moosa does need to make his team's possession game effective with a lack of goal conversion for their next fixture against Kerala Blasters next week.